CD Review
Sonatas for Piano, Volume 4
Sonata #12 in A Flat Major "Funeral March", Op. 26
Sonata #15 in D Major "Pastoral", Op. 28
Sonata #27 in E minor, Op. 90
Garrick Ohlsson, piano
Bridge 9249 DDD 62:12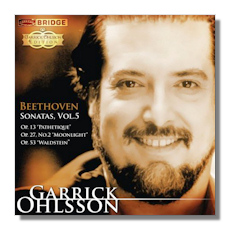 Sonatas for Piano, Volume 5
Sonata #8 in C minor "Pathétique", Op. 13
Sonata #14 in C Sharp minor "Moonlight", Op. 27 #2
Sonata #21 in C Major "Waldstein", Op. 53
Garrick Ohlsson, piano
Bridge 9250 DDD 63:21
Despite the preponderance of named sonatas on both discs, the contrast between Volume 4 and Volume 5 of Ohlsson's Beethoven cycle is dramatic, and I can understand why Bridge released them as a pair. Volume 4 presents (for the most part) Beethoven in a genial mood, whereas Volume 5 presents Beethoven at his most stormy and unpredictable. The latter volume, recorded in 1995, originally appeared on the Arabesque label. Volume 4, recorded in the spring of 2007, is original to Bridge. The recording venue and the producer/engineer (Adam Abeshouse) are common to both. On the program from 2007, however, the piano is a reconstructed Mason and Hamlin concert grand, while Ohlsson plays a heavier Bösendorfer – an appropriate choice – on Volume 5. This is a sensitive matching of pianos and repertory, although it might have been largely circumstantial.
Ohlsson shot to fame in 1970 when he won the International Chopin Piano Competition in Poland. Success hasn't spoiled him, and with each passing year he has become even more of a pianist for all seasons, with a huge repertory and the life experience to do it justice … and then some.
The playing on Volume 4 is a demonstration of how unaffected, dependable playing need not be dull. It is easy to attract attention by making unusual interpretive decisions, by playing exceptionally fast or slow, and so on. Ohlsson does almost nothing in these readings that makes you ask, "Why did he do that?" (or worse, "Gee, I wish he didn't do that!") Nevertheless, his playing is so controlled, so polished, and frankly, so tonally gorgeous, that one can't help but admire what he does here. Even the Funeral March movement from the eponymous sonata is played with stoic moderation, and as a result, it is integrated with the rest of the sonata much better than it sometimes is. Ohlsson was 59 when he recorded these sonatas. For a Beethoven pianist, that is a perfect age. Physically, everything should be a perfect working order (and it is), and by that age, the pianist should know exactly what to do with his physical ability … and Ohlsson does. These are among the most satisfying performances of these three sonatas.
Turning to Volume 5, Ohlsson also gets excellent results here, although there will be those who want to hear these showier sonatas played with more self-conscious virtuosity … the louder/faster/more extreme manner of playing. To call someone's pianism "tasteful" sounds like damning it with faint praise. However, "tasteful" and "sensible" are the two adjectives that come to mind most quickly when I consider Ohlsson's Beethoven, and there's no harm in that. The third movement of the "Moonlight" Sonata, for example, isn't allowed to become an all-consuming maelstrom. Ohlsson remains in tight control at all times, although he doesn't rob the music of its passion and excitement. Technically, he is very impressive too. In the first movement of the "Waldstein," the 16th-note tremolo figures in both hands are played with uncommon smoothness, as are the famous pianissimo octave passages late in the third movement.
I feel that Ohlsson's Beethoven sets a very good example for those who want to learn this music, either as pianists or as music-lovers, and who want to decide for themselves what the music is all about. In other words, Ohlsson doesn't force a viewpoint down a listener's throat, but presents the music objectively (but not facelessly) instead. These discs are safe recommendations. Still, there's room in everyone's library for wilder or more strongly opinionated recordings of this music, such as those played by Schnabel, Gulda, and Goode – all recommended as well.
Copyright © 2008, Raymond Tuttle