CD Review
Ricky Ian Gordon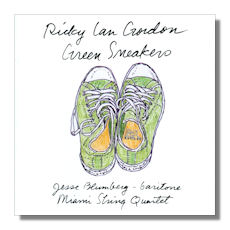 Green Sneakers
Prelude (instrumental)
If Only Someone Could Have Told Me
In Particular
He Came to Houston
Needs
Shopping
Sportswear
Opening Night
Philadelphia
Stone Garden
Blue Dust Mask
Two Months Later
Would You Consider
Operas Come And Go
It Was As If…
Bonanza
Bus Ride (instrumental)
Provincetown
Epilogue: Sleep
Jesse Blumberg, baritone
Miami String Quartet
Blue Griffin BGR207 57:36

A Horse with Wings
Finding Home
Heaven
A Horse With Wings
Drivers of Diaper Service Trucks Are Sad
The Light Comes On By Itself
Bus Stop
If I Should Learn, in Some Quite Casual Way
Midnight Lake
Virginia Woolf
Janet Underneath the Roses
Lullaby
White Haired Woman
Adolescent's Song
Home of the Brave
What Shall We Remember?
Autobiographia Literaria
Ricky Ian Gordon, vocal and piano
Blue Griffin BGR209 59:45
Summary for the Busy Executive: Forget the horse. Keep the sneakers.
A hot ticket on the New York scene right now, Ricky Ian Gordon, as far as I know, specializes in vocal music, especially musical theater pieces, and he has received awards, foundation grants, commissions, and a stack of nice reviews.
As a songwriter, Gordon has a melodic gift. However, if a great song needed a great melody, Schubert's "Der Tod und das Mädchen" wouldn't get out of the gate. Most of Gordon's songs fall into the Sensitive Songwriter category, and the accompaniments sound a lot like the singer-songwriter piano of the Sixties and Seventies. Gordon's heroes include Ned Rorem and Joni Mitchell, both great choices. Like Rorem, he has a good eye for poetry, although he has a propensity in his own lyrics to preach and to paint purple. However, the difference between his work and theirs points to his weaknesses. First, they could write both keening "power ballads" and peppy up-tempo numbers. Second, both can write effective strophic and through-composed songs. Gordon, on the other hand, needs a solid poetic structure. Otherwise, his songs tend to degenerate into an improvisational sprawl, as if he simply sang and played whatever came out as he made his way through the lyrics with the tape recorder running. It's the Dana Carvey "broccoli" mode. Also, the songs on A Horse with Wings are all slow, and most are laments. They are essentially the same kind of song. And none of them are as good as Arlen & Harburg's "Let's Take a Walk Around the Block," although they aspire to tonier neighborhoods.
I'd categorize Gordon's singing as Feinstein Broadway, hard-sell with a bit of a bleat and a few cents flat on the higher notes. Altogether, I'd have to call this collection unremarkable.
The death of Gordon's love from AIDS has inspired a few of Gordon's works, Green Sneakers among them. A dramatic song cycle for baritone and string quartet (it's even been staged), it takes a sequence of poems by Gordon about this death. It's heartfelt, even at times devastating. The poems are far more direct than Gordon's Horse with Wings and far less purple. While the melodies aren't generally as memorable as in the song collection, the songs are tighter and less predictable. Perhaps this arises from the discipline of writing for a string quartet. As far as I can tell, there's not one Dana-Carvey song in the group, and the string writing sounds both idiomatic and interesting. This, rather than A Horse with Wings, more than accounts for the interest in Gordon's work. The cycle as a whole exhibits a sharp sense of theater, a careful orchestration of high-points, a well-shaped arc. The two works differ considerably: A Horse with Wings sprawls like a sloppy drunk; Green Sneakers focuses a wide range of tempi, idiom, and poetic image and strikes deep. The difference comes down to a matter of control and to a fidelity to the raw experience, a refusal to hide in feel-good sentimentality.
Blumberg sings well and with dramatic point – in fact, much better than the composer himself. The Miami String Quartet provides a sensitive accompaniment, asserting itself where it should.
Copyright © 2011, Steve Schwartz.