CD Review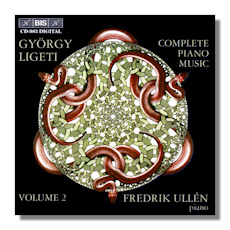 Complete Piano Music - Volume 2
Musica Ricercata:
Sostenuto
Mesto, Rigido E Cerimoniale
Allegro Con Spirito
Tempo Di Valse (Poco Vivace - "A L'Orgue De Barbarie")
Rubato. Lamentoso
Allegro Molto Capriccioso
Cantabile, Molto Legato
Vivace. Energico
Adagio Mesto (Béla Bartók In Memoriam)
Vivace. Capriccioso
Andante Misurato E Tranquillo (Omaggio A Girolamo Frescobaldi)
Fruhe Stücke:
Sonatina: I - Allegro
Sonatina: II - Andante
Sonatina: III - Vivace
Trefas Indulo
Polyphonic Étude
Three Wedding Dances:
A Kapuban A Szeker
Hopp Ide Tisztan
Csango Forgos
Allegro
Three Pieces:
Monument
Selbstportrait Mit Reich Und Riley (Und Chopin Ist Auch Dabei)
In Zart Fliebender Bewegung
Étude #15, White On White
Étude #16, Pour Irina
Fredrik Ullén, piano
BIS CD-983 DDD 65:52
This is the second (and final) volume in Ullén's survey of György Ligeti's piano works. At the outset, let me say that Ullén also is a recent recipient of a Ph.D. in neuroscience, a field in which he continues to do research. This achievement makes the perfection of his playing even more monstruous!
Volume 2 contains both highly entertaining juvenilia and masterworks of the composer's early and late maturity. In the latter category I include Musica Ricercata, which Ligeti wrote in his late 20s. In the first of its 11 pieces, the composer allows himself just one pitch, A, although he sneaks in a D at the very end. In the second piece he adds another pitch, yet another in the third, and so on, until he reaches the final 12-tone ricercare, an Homage to Girolamo Frescobaldi. The concept may sound dry, even childish, but in practice it is anything but. Musica Ricercata just goes to show that limitations can be our strengths – this is stimulating music.
Another masterwork is the Three Pieces for Two Pianos from 1976. (Ullén plays it, and the other two-piano works on this CD, by recording first one part, and then superimposing the second.) In it, Ligeti continues his exploration of polyrhythms (for example, three beats per measure in one piano and four beats per measure in the second) and tips his hat to the American Minimalist composers. (The second piece is called Self-Portrait with Reich and Riley (and Chopin is also there).) The player-piano music of Conlon Nancarrow is evoked in the frightening third movement.
This volume adds two new études, numbers 15 and 16, to a series the composer began in 1985. The fifteenth, White on White, was written in 1995, and its name is derived from the fact the Ligeti limited himself (again, until the very end) to the use of white keys in its composition. The sixteenth, For Irina, is not included in Sony's György Ligeti Edition, even though its dedicatee, Irina Kataeva, is one of that edition's performers!
The "juvenilia" here also is for two pianos. There is an adorably hyperactive Sonatina (shades of Prokofieff), a march (Tréfás induló), a Polyphonic Étude, three violently gleeful Wedding Dances, and a blistering 39-second Allegro. They're not consistently typical of Ligeti, but they are consistently interesting.
As indicated above, Sony has recorded this music with Irina Kataeva (second pianist in the two-piano works); Pierre-Laurent Aimard plays everything else. Although Aimard's and Kataeva's interpretations have Ligeti's blessings, I find Ullén's to be even better. He is in complete sympathy with the music's Rube Goldbergian conceits, and he plays "as if the right hand doesn't know what the left is doing," which is exactly what Ligeti's polyrhythmic challenges require. He also has the requisite stony demeanor for pieces such as Béla Bartók in memoriam, from Musica Ricercata, and did I mention that he has a flabbergasting technique? What about a sense of humor? He has all that and more. Furthermore, BIS's engineering surpasses Sony's; it is seldom that one hears a piano recorded this well. So again, bravo to BIS, and bravo to young Ullén. I recommend this CD highly.
Copyright © 1999, Raymond Tuttle