Related Links
Recommended Links

Site News
SACD Review
György Kurtág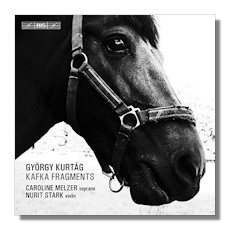 Kafka Fragments, Op. 24
Caroline Melzer, soprano
Nurit Stark, violin
BIS SACD 2175 58:08 Hybrid Multichannel
The Hungarian composer György Kurtág was a fellow-student of György Ligeti at the Franz Liszt Academy in Budapest in the late 1940's and studied with Olivier Messiaen and Darius Milhaud during the year he spent in Paris in 1957-8. The Kafka Fragments are one of his best-known and most frequently-recorded compositions. The origins of this unusual and complex song cycle for soprano and solo violin go back to his year of exile in Paris. It was during that year that Kurtág began collecting fragments from the works of Franz Kafka – not from his published works but from his notebooks, diaries, and letters. At the same time Kurtág was helped to recover from a major depression by the psychotherapist Mariann Stein, to whom he eventually dedicated the Kafka Fragments, which he began to compose in 1985 and completed in 1987.
The word "fragment" in the title is to be taken quite literally. This piece contains 40 songs (for want of a better word), divided into four sections. Each song is drawn from an observation or aphorism. Unlike some more famous song cycles the texts are a wonderful read without musical accompaniment, and Kurtág shows great skill as a curator of Kafka's marginalia. The flavor of the piece, and perhaps also its central theme, comes across very clearly in the longest song in the cycle – "The true path", which is the only song in the second section. In Kafka's words (translated by Julia and Peter Sherwood): "The true path goes by way of a rope that is suspended not high up, but rather just above the ground. Its purpose seems to be more to make one stumble than to walk on". Kafka aficionados will recognize the sentiment.
The haunting and fragmentary words are set to music of great expressiveness, but it is an expressiveness that does its work through economy and suggestion. Many of the songs last less than a minute, with two coming in at 17 seconds. The combination of soprano and violin is very effective for the texts. In the final song ("The moonlit night dazzled us") the soprano enters into a wordless song, but elsewhere the violin picks up on moods and nuances hinted at by the words, using the instrument's full harmonic, rhythmic, and percussive ranges.
Caroline Melzer and Nurit Stark are very much attuned to each other and to the sound-world of the song cycle. The sound quality on this hybrid SACD is first rate (I listened in two-channel, but 5.0 surround sound is also available), and the program notes are well-written and informative. I highly recommend this disc.
Copyright © 2015, José Luis Bermúdez