CD Review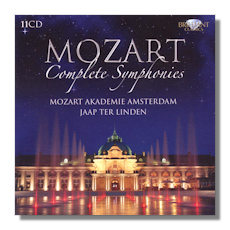 Complete Symphonies
Symphony #1 in E Flat Major, K. 16
Symphony #4 in D Major, K. 19
Symphony in F Major, K. 19a
Symphony #5 in B Flat Major, K. 22
Symphony #6 in F Major, K. 43
Symphony #45 in D Major, K. 45
Symphony #8 in D Major, K. 48
Symphony #9 in C Major, K. 73
Symphony #10 in G Major, K. 74
Symphony #12 in G Major, K. 110
Symphony in D Major, K. 111a
Symphony #13 in F Major, K. 112
Symphony #14 in A Major, K. 114
Symphony #15 in G Major, K. 124
Symphony #16 in C Major, K. 128
Symphony #17 in G Major, K. 129
Symphony #18 in F Major, K. 130
Symphony #19 in E Flat Major, K. 132
Symphony #20 in D Major, K. 133
Symphony #21 in A Major, K. 134
Symphony #22 in C Major, K. 162
Symphony #23 in D Major, K. 181
Symphony #24 in B Flat Major, K. 182
Symphony #25 in G minor, K. 183
Symphony #26 in E Flat Major, K. 184
Symphony in D Major, K. 196
Symphony #27 in G Major, K. 199
Symphony #28 in C Major, K. 200
Symphony #29 in A Major, K. 201
Symphony #30 in D Major, K. 202
Symphony #31 "Paris" in D Major, K. 297
Symphony #32 in G Major, K. 318
Symphony #33 in B Flat Major, K. 319
Symphony #34 in C Major, K. 338
Symphony #35 "Haffner" in D Major, K. 385
Symphony #36 "Linzer" in C Major, K. 425
Symphony #38 "Prague" in D Major, K. 504
Symphony #39 in E Flat Major, K. 543
Symphony #40 in G minor, K. 550 (First version without clarinets)
Symphony #40 in G minor, K. 550 (Second version with clarinets)
Symphony #41 "Jupiter" in C Major, K. 551
Mozart Akademie Amsterdam/Jaap Ter Linden
Brilliant Classics 94295 11CDs
These Mozart symphonies were originally recorded in 2001-2002 and are performed on period instruments. The Mozart Akademie Amsterdam is a chamber orchestra founded in 2000 by its conductor, Jaap ter Linden. Thus, this massive project was its first major undertaking, and all in all, the performances are very good and the sound is excellent. The symphonies are presented mainly in chronological order; that is, according to the Köchel listing number. There are exceptions, or so it would seem: #31 ("Paris"), for example, is on disc 9 coming just before #36 ("Linz") and arguably could have been placed on disc 7, after #29. That said, Mozart did revise #31 later on and so ter Linden's numbering is also logical.
Speaking of numbering, there will be certain things about it that are confusing to those unfamiliar with Mozart's symphonies: the first disc, for example, closes with Symphony #45 because the work is not really #45 chronologically, but #7. Here it follows #6, and in many complete sets it is simply called Symphony #7. Another issue here, as Mozart mavens are aware, is that Nos. 2, 3 and 37 are not included, as is the case with most Mozart symphony cycles, because those works have been attributed to Leopold Mozart, Carl Friedrich Abel, and Michael Haydn, respectively. (Mozart did write the introduction to #37.) Other unnumbered symphonies are included, however, and are fitted into the chronological order here in accord with solid Mozart scholarship.
One might quibble that certain works included in other Mozart symphony cycles are not offered here. This Brilliant Classics set contains 41 symphonies, including two versions of Symphony #41. The Charles Mackerras set (Telarc), by comparison, offers 45 symphonies, but some of those are spurious. In the end, I'm comfortable to call ter Linden's set complete. After all, I don't know of anyone who has recorded all 68 or so works in Mozart's catalogue that, to one degree or another, might be called symphonies.
I've read much commentary on various websites about ter Linden's cycle and most of it has been positive. However, several critics and bloggers have found some uneven qualities in both the performances and sound, not a surprising judgment given the number of performances here. As I've already suggested, the sound reproduction is quite excellent and I cannot agree with anyone who finds any significant fault with it. It's true that in some performances you notice a slightly scrawny string sound, as with the first movement of #35 ("Haffner") or the finale of #41 ("Jupiter"), to cite just two examples. But one must remember that a chamber orchestra has far fewer strings, and here the string sound never comes across as weak or underpowered. In any event, if this is sometimes a minor shortcoming, it is not the fault of the sound engineers.
Some commentators have also noted that the tempo selections by ter Linden are often on the moderate side, suggesting they are less vital, less driven. They are indeed less driven, but his performances are almost always spirited and never drag, and with his more moderate tempos he is able to point up much essential, as well as secondary detail. There has been a tendency of late, not just in Mozart's works, but in Haydn's, Beethoven's, and others' from the Classical era, to press down on the accelerator, and while such an approach can work, it's hardly an automatic virtue as tempos might simply come across as rushed or insensitive. Mackerras's Mozart symphonies are almost consistently faster than ter Linden's, but his tempos, valid as they often are, might sometimes sound hasty with essential detail blurred or less prominent. While I wouldn't opine that ter Linden's approach is obviously superior, it is competitive and can challenge Mackerras, Böhm, and many others in the complete Mozart symphony sweepstakes.
Among the better ter Linden performances here is the Symphony #25, Mozart's first minor-key symphony and probably his darkest up to that point. In my opinion it is the greatest early Mozart symphony and clearly foreshadows the depth in such works as Nos. 40 and 41. The first movement is especially effective, as it comes across with more muscle and a sense of conflict and agitation. #31 ("Paris") is another fine effort, the jovial, brighter moods having a delightful playful character, especially in contrast with the grand epic moments in the first movement. In the slow movement those high spirits continue with a certain jumpy, chipper quality, and the finale just effervesces.
No. 36 ("Linz") is another splendid performance, with the strings having plenty of heft and a real sense of joy in the first movement. The Presto finale may not quite be Presto here, but it is ebullient and utterly infectious. Both versions of #40 are excellent, and while the latter rendition has added clarinets and a few other changes in scoring, the two renditions are not that different. Still, I'm glad to have both. The first movement, of course, features that famous dark theme, which if I remember correctly, was used in a pop (or rock?) instrumental piece a couple of decades ago.
No. 35 ("Haffner") is also a splendid account of this great masterpiece. The first movement exudes confidence and sunlight, and here ter Linden draws all manner of gradations in dynamics from his orchestra and captures the shifting moods with a deft sense. The ensuing Andante is lovely in the blended sonorities of winds and strings, and in these more relaxed movements ter Linden never lingers too long over some detail, never drags the tempo, always seeming to impart a spirited and sensitive character to the music.
Ter Linden's #38 ("Prague") is also very spirited, this time with quite lively tempos in the first movement. Even his Presto finale goes at a good clip this time, and the orchestra's playing throughout is splendid. #39 has always been a favorite of mine and this reading features a very dreamy account of the lovely second movement, truly one of Mozart's more subtle yet simple creations. The whole performance is fine actually, as is the account of the concluding work here, #41 ("Jupiter"). This is certainly a candidate for Mozart's most profound symphony and this reading is fully convincing and features a splendid finale. This is one movement that can't be rushed; otherwise the epic nature of the music is weakened and the colors are generally bleached out. You notice plenty of detail here and the music shows Mozart entering what I believe might have become another phase: his symphonies were now foreshadowing the depth in the Beethoven symphonies to come, and I think Mozart may well have begun enlarging the symphonic form before Beethoven. That's speculation, of course, and so we'll never know what might have happened had Mozart lived beyond thirty-five years.
Ter Linden's set is not only valuable in the later, more popular Mozart symphonies but in the early ones as well. In listening to Nos. 1 and 4, the two works leading off disc 1, it is amazing to think these were written by a child. #1 was composed when Mozart was just eight years old and the symphony itself as a form was still developing. His first effort is remarkably well crafted, even if it is not particularly memorable. #4 is shorter and seems a bit more subtle, if that's the word for this prodigy's work at this stage in his career. #20 has an infectious energy in the first movement and an utterly irresistible carefree spirit in the second. The whole work is quite good, almost worthy to stand in the company of some of the more mature symphonies. By the way, the performance of this symphony brims with virtuosity and finesse, especially in the outer movements.
As you progress through this set of symphonies you can quite clearly observe the advances Mozart was making in the symphonic form. There are some large leaps in development, of course: Mozart wrote no symphonies between Nos. 30 (1774) and 31 (1778), and you can notice in the latter work how he has now developed a deft sense of majesty and grandeur. Also, as you go through this set you find that almost every symphony has something of interest to offer the listener, not least the fingerprints of genius.
As suggested above, performances of even the early, less-inspired works here are totally committed. As for the sound of the period instruments used by the Mozart Akademie Amsterdam, I can say that the only obviously noticeable difference is in the horn sonorities, which are fine. All in all, this is an excellent set, well worth its purchase price of around fifty dollars or less. Again, the sound is vivid and quite potent and ter Linden's readings are fully competitive, typically presenting performances that can rank with the best. Highly recommended.
Copyright © 2012, Robert Cummings