CD Review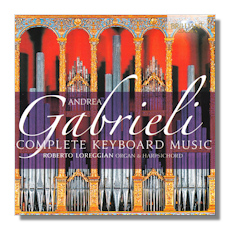 Complete Keyboard Music
Canzon primo tono
Canzoni alla francese et ricercari ariosi
Canzoni alla francese
Il terzo libro de ricercari
Intonationi d'organo: Libro primo
Praeambulum primi toni
Praeambulum quarti toni
Praeambulum tertii toni
Ricercari: Libro secondo
Toccata primi toni
Toccata sexti toni
Missa Apostolorum 1
Missa de Beata Virgine 1
Missa Dominicalis 1
Missa Dominicalis 1
Roberto Loreggian, organ & harpsichord
1 Schola Gregoriana Scriptoria/Nicola Bellinazzo
Brilliant Classics 94432 6CDs
Uncle of the perhaps better-known Giovanni, Andrea Gabrieli, who lived from 1532 or 1533 to 1585, was the first great member of the Venetian School; he was highly influential in Italy and northern Europe. Nest remembered now for his spacious vocal music (both sacred and secular) and music for voices with instruments which took great advantage of the vast and resonant acoustic of that city's Basilica San Marco, Andrea also wrote solo keyboard music. Italian organist and harpsichord player Roberto Loreggian manages to convey Andrea Gabrieli's sense of drama, occasion and musical breadth and depth in this welcome collection of the complete keyboard works on Brilliant.
In practice, this means a collection of nearly 75 individual works which include the pieces originally written for solo keyboard as well as transcriptions of vocal compositions – particularly on the fifth and sixth CDs – and probably anonymous works conventionally attributed to Andrea Gabrieli. It has to be said that to question some of these attributions is to be on pretty firm ground: their styles can be very different. The listener is likely to be struck by the acceptable and genuine variety of the works as well. And while all distinguish themselves by a typically Venetian dignity and loftiness, profundity and soulfulness, the music is neither pompous nor unduly ethereal. There are no moments of pricking bathos or forced emotion.
Indeed, the structure, progression, and architecture especially of the more substantial works (they range in length from barely a minute to almost eight) has an inevitability about them which is expressed in a subdued manner here. This sense of leading, of following a direction is not due entirely to the progression of tonal center. Listen to the determination and clear progression of the "Primo Tono" ricercar, for instance [CD.2 tr.1]. Gabrieli's great strength in this respect is to appear to be searching ("ricercare", "to seek" in Italian), yet actually have an entirely clear goal from the outset. It would be easy for a performer to falsely emphasize such a sense of apparent indeterminacy, only to reveal the end as specious spectacle. This Roberto Loreggian consistently avoids in what amounts to a splendid set of performances, which can be thoroughly recommended.
Because the fourth of the six volumes of Andrea Gabrieli's music which were gathered and published by Giovanni after the former's death, between 1593 and 1605, is lost, this set is presumably as complete as we are likely to get. Particularly since tablature versions do exist of these alternatim verses for three of the masses. The whole has been intelligently arranged, alternating the vocal works with sensibly-grouped instrumental ones, for instance. It makes compelling listening.
Both the intonationi and toccate delight in improvisation and explore fingering techniques and the typically Venetian alternation of slow passages with rapid scales. Loreggian does not merely reproduce these. He infuses the forms with life and controlled original thought. Similarly the ricercari (where tonality plays such an important part: the movements do indeed appear to be seeking their own tonal centers) and canzoni, which are deliberately lyrical, as was pure song. One of Loreggian's stated intentions [page 14 of the booklet] was to "render the quality of Venetian sonority of the late 1500s as faithfully as possible". This he does admirably. The entire set is shot through with vibrancy, with life. But he does not neglect the intellectual or emotional substance of Gabrieli's writing. Indeed, this is a set of interpretations as satisfying cerebrally as it is pleasing sonically.
Loreggian was born in Monselice in the heart of the Veneto and was highly successful in his education in Italy. He then studied under Ton Koopman at the Conservatory of The Hague and has since performed throughout Italy, in Germany, Brazil and Japan. The winner of several awards, he now teaches at the Cesare Pollini Conservatory in Padua. Loreggian is particularly adept at going beneath the surface of Andrea Gabrieli's music; at revealing its variety; and at striking just the right balance between convention as it evolves, and substance.
Yes, Gabrieli's style is at times elevated with its love of homophonic textures at climaxes and a language that – after working with Lassus – privileged a sense of the profound and reflective over pure counterpoint. But Gabrieli clearly rose easily to the heights offered by the Basilica, repeating, for instance, the same phrase with different textures. Loreggian works with this in such a way as to explore the composer's love of contrast as a major direction that music was to take in the immediately successive generations.
Loreggian plays a restored sixteenth century organ by Colombi. It's full of character and has its own mellow, at times almost too "fruity" sound. There is some unexpected vibrato, at the start of the "Praeambulum quarti toni" [CD.1 tr.15], for instance. But it's not an instrument aimed to convey empty grandeur. Rather, it gently and unobtrusively explores the penetration of Gabrieli's thoughtful yet self-confident melodic and harmonic world. Where there needs to be drama – at the start of the "Praeambulum Tertii toni" [CD.1 tr.17], say – Loreggian seems merely to have to touch the keys for it to emerge in a convincing and constructive way. Nothing pompous or over-reaching.
Similarly with the harpsichord, by Gazzola from 1990 after Domenico da Pesaro: it's an extremely dry sound. This is no detriment. Loreggian summons every nuance possible from it and gently reveals the sheer musicality of Gabrieli's writing across its entire dynamic and melodic range. The extensive and yet tight "Toccata sexti toni" [CD.3 tr.14] is a good example. Interest is kept up at all times. It's also a sonorous and rounded tone with minimal mechanical noise. Nor is this Gazzola either unduly loud or strainingly soft. It suits the music very well.
The choir of Schola Gregoriana Scriptoria, conducted by Don Nicola Bellinazzo, has appeared on CD in similar repertoire. They sing with conviction and illustratively; yet are clearly a local church choir with few pretensions to the grand manner. In some ways this may be more likely to have been what Gabrieli would have expected. It works well, though the understatement and immediacy of the Choir's delivery may come as a surprise to some at first hearing.
The acoustics are those of the Cathedral at Valvasone (organ) in the northeastern Italian province of Friuli-Venezia Giulia; and the Abbey of Santa Maria delle Carceri d'Este in Padua in the nearby Veneto (harpsichord). The first is as spacious and resonant as the second is intimate and close. Neither venue lacks anything in crispness and precision. The recordings date from October 2014 (organ) and January 2015 (harpsichord). The booklet contains very full technical details of the instruments; there is as much detail, in fact, as is given about Gabrieli and his music. This appears to be the only such collection of all these works of Gabrieli's. There are times when Brilliant's "completist" approach can sacrifice quality for comprehensiveness. This is not one of them. The splendid music of the Venetian Sixteenth Century is well served by Loreggian and the Choir. It's been imaginatively collected and attractively presented. Above all, the playing is authoritative and extremely satisfying.
Copyright © 2015, Mark Sealey