CD Review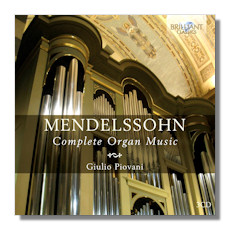 Complete Organ Music
Prelude & Fugue in D minor, Op. 37 #3
Andante in D Major
Chorale-partita "Wie gross ist des Allmacht gen Gute"
Ostinato In C Minor
Fughetta in A Major
Nachspiel in D Major
Andante con moto in G minor
Fughetta in D
Prelude & Fugue in C minor, Op. 37 #1
Prelude & Fugue in G Major, Op. 37 #2
Prelude & Fugue in D minor, Op. 37 #3
Fugue in E minor
Fugue in F minor
Prelude in C minor
Trio in F Major
Andante & Variations in D Major
Allegro, Chorale & Fugue in D minor
Allegro in B Flat Major
Allegro moderato maestoso in C Major
Six Organ Sonatas, Op. 65
#1 in F minor
#2 in C minor
#3 in A Major
#4 in B Flat Major
#5 in D Major
#6 in D minor
Giulio Piovani, organ
Brilliant Classics 94845 3CDs
For me, the competition for this set is on Hyperion with John Scott (CDD22029). He also plays all six of the Organ Sonatas with a smattering of other works. Realistically, Mendelssohn's organ output is a novelty for organ fans; those not inclined to appreciate the instrument will not miss out on understanding the composer by avoiding these pieces. At the same time, these pieces are very well-written (this is Mendelssohn), and they will please anyone who enjoys Baroque organ music.
No, that last sentence isn't a typo. The first two discs are full of simply named fragments and a handful of Prelude and Fugues. They aren't merely imitative, mind, but they do effectively show two things. One, they demonstrate the love that Mendelssohn had for Bach and his contemporaries. Mendelssohn played a big part in the Bach revival, as many know. Two, these works clearly show the superiority of Bach and his contemporaries. Some of these works are excellent, others are overly long and lack the musical cohesion of past masters. On the other hand – and typically for this composer – Mendelssohn happily avoids the sometimes ugly Romantic bombast of his fellow composers while writing for the instrument. There is a certain restraint and nostalgic feel to this music that is very appealing.
The six Organ Sonatas that comprise Op. 65 are a little more individual in character. While they remain indebted to the Baroque organ tradition, they are also more Romantic in approach. As organ sonatas go, these are some of the better ones; tuneful, intelligent, and never vulgar. Having all of these works in one handy packaged is, well…handy. Giulio Piovani is a fine young Italian organist who clearly loves this music, and his handling of the sonatas is pleasingly assured.
Brilliant Classics packages this all nicely in one of those triple jewel cases, and thankfully provides information on the organs. Speaking of the organs, they have both been built within the last six or seven years. They are good, if not great instruments of local Catholic Parishes in Italy. They are noticeably inferior to German and French pipe organs (most Italian instruments are), yet they prove admirably up to the task. All in all, this is a useful, if not especially essential set.
Copyright © 2014, Brian Wigman