CD Review
The Stokowski Sound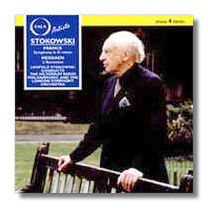 French Program
Hilversum Radio Philharmonic Orchestra/Leopold Stokowski
* London Symphony Orchestra/Leopold Stokowski
Cala CACD0525
Chopin French? Well, as Edward Johnson explains in his excellent notes, Chopin was half-French and lived much of his life in Paris. Whatever. All I can say is that this is an excellent program and the sound is better than any previous CD incarnations and even better than the LPs.
Anyway, early in the process of writing this review I decided it would have to be two reviews in one. The first will be purely about this particular disc. The second will be a report about what I have learned about the main course on the menu, the Franck Symphony.
I have listed the contents in the order they appear on the disc. The flow from one item to the next is seamless. Even the Messiaen does not jar me. It sounds a lot like a concert Stokowski would have developed himself. There is no sound difference among the various recordings despite the different locale. I happen to like Messiaen, he always reminds me somewhat of Scriabin or Ives. If that seems an odd combination, so it goes. Messiaen's sound world is, however, unique. (Oddly, I was painting the kitchen Sunday afternoon, the summer of '99, and the PBS program featured the Pittsburgh Symphony with Mariss Jansons conducting. In the introduction to a piece by Messiaen the commentator reminded me that Messiaen often referred to his musical compositions in terms of colors. This is much like Scriabin, too.) I find the music's many moods ecstatic at moments, eerie at others.
The Franck will be controversial. The March 1999 issue of Gramophone is one of the sources I consulted whilst writing this. It contained an article comparing and contrasting about 30 different recordings of the piece. The conclusion was that Monteux's Chicago recording still holds place of prominence. So, I listened to it and the Beecham recording as part of my research, too. Let me give you an idea of the differences in timings.
Movement
Beecham
1962
Monteux
1961
Stokowski
1970 (studio)
Stokowski
1970 (live)
1.
17:20
17:55
18:05
16:51
2.
10:50
10:33
12:35
11:17
3.
10:19
10:19
12:51
11:25
Let me add to that the timings for Stokowski's 1935 Philadelphia recording:
Movement
Beecham
1962
Monteux
1961
Stokowski
1970 (studio)
Stokowski
1970 (live)
Stokowski
1935
1.
17:20
17:55
18:05
16:51
17:24
2.
10:50
10:33
12:35
11:17
11:56
3.
10:19
10:19
12:51
11:25
11:26
As you can see, Stokowski is much slower in his tempi. This is particularly the case in the final two movements. His live performance with the Hilversum Radio Orchestra (on Music and Arts ) is his fastest, but even there he is slower than the other two in the final movements. Okay, so what does it all mean? As I tell my students, figures, in themselves, are meaningless. You might conclude that Stokowski lacks tension and that the music bogs down. That conclusion would be an error. In fact, Stokowski's interpretation is taut, the attacks precise, the conclusion of the work is absolutely riveting. Let me go on.
In his Gramophoneessay, Jonathan Swain essentially dismisses Stokowski's 1935 recording saying it is "very serene… often very slow too, the priorities appearing to be 'vibrant beauty of sound', blended sostenuto line, rather than maintaining symphonic coherence and inner vitality."* It is not strange that he doesn't even mention the 1970 recording. He goes on to say that it is the "… farthest remove from the French tradition… [which] is, put simply one of pace and grace." Now, what all this actually means, I am not sure. What is certain is that Stokowski plays the piece as only an organist would… or could. Particularly in the last recording, the Phase 4 recording technique adds to the 'touch' that the former organist could 'pull out' of the orchestra. The opening theme (used as Wagner's Fate Theme, in Liszt's Les Préludes and a late Beethoven Quartet**) grabs my attention immediately. It sounds like Stokowski had 100 double basses along the back wall. Much as I like Monteux, Stokowski sucks me in immediately. The slow movement opens with harps and strings pizzicato, one of the "countless wonders" Debussy referred to when discussing this* is one of those defining moments for me. When the English horn comes in***, Stokowski has him (or her? whoever it is should have been credited) play the music in a haunting, plaintive way I have never heard before or since. If this is not "pace and grace" I don't know what it means. The last movement is exciting and the closing timpani climax sweeps me away. I listened to this piece several times over several evenings, often catching myself humming the music like someone drunk on it. It may be an acquired taste, but I love this recording better than any I know.
Stokowski once said that some day recordings would sound better than live performances. I am sure that he loved the Phase 4 process and utilized it to reach that kind of plateau. I had intended to discuss this recording using more comparisons with the others. After several listenings, however, I realized there is no comparison. I give this recording my highest recommendation. If you are still hesitant because of the tempi, let me quote from an essay by James Goodfriend. "The most 'correct' performance of any piece of music is the one that, within the restrictions of the score and what we know of the style, sounds best to us, and metronomes, if they disagree, can go hang."****
* Gramophone March 1999.
** Edward Downes, Guide to Symphonic Music 1976.
*** One of Franck's critics maintained that the symphony couldn't be a symphony because it used an English horn and that everyone knew you didn't use an English horn in symphonies. Apparently he forgot Haydn's Symphony #22 "The Philosopher".
**** Stereo Review December 1979.
Copyright © 1999, Robert Stumpf II