CD Review
Historic Series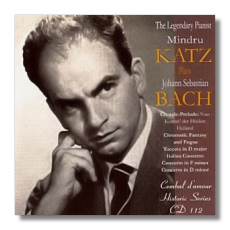 The Legendary Pianist Mindru Katz
Chromatic Fantasy and Fugue
Italian Concerto
Toccata in D Major, BWV 912
Keyboard Concerto in F minor, BWV 1056
Keyboard Concerto in D minor, BWV 1052
Bach/Busoni: Nun komm' der Heiden Heiland
Mindru Katz, piano
Pro Arte Orchestra/Harry Newstone
Cembal d'amour CD112 ADD 79:32

The Legendary Violinist David Nadien
Romantic and Virtuoso Music
from the Golden Age of the Violin
Anton Rubinstein: Melodie in F Major, Op. 3 #1
Claude Debussy: Prélude "La fille aux cheveux de lin", Book 1 #8,
Felix Mendelssohn: Song "Auf Flügeln des Gesanges", Op. 34 #2
Franz Drdla: Souvenir in D Major
Franz Schubert: Ellens Gesang III "Ave Maria", D 839/Op. 52 #6
Fritz Kreisler:
Caprice viennois, Op. 2
Praeludium and Allegro in the style of Pugnani
Gabriel Fauré: Berceuse in D Major, Op. 16
Henri Vieuxtemps: Feuille d'album "Regrets", Op. 40 #2
Joseph Joachim Raff: Morceaux in D Major "Cavatina", Op. 85 #3
Jules Massenet: Thaïs - Meditation
Niccolò Paganini: Moto perpetuo in C Major, Op. 11
Caprice basque, Op. 24
Introduction and Tarantella, Op. 43
Spanish Dance "Habañera", Op. 21 #2
Spanish Dance "Zapateado", Op. 23 #2
Edward Elgar: Salut d'amour, Op. 12
William Kroll: Banjo and Fiddle
David Nadien, violin
Boris Barere, piano
Cembal d'amour CD111 ADD 74:11
Cembal d'amour continues its series of reissues devoted to Mindru Katz with this disc. (Katz taught Mordecai Shehori, the pianist who founded the label in 1994, and who oversees almost every detail of Cembal d'amour's releases.) Katz was born Romania in 1925, and, like Dinu Lipatti, studied under Florica Musicescu. Katz quickly began an international career that took him to many countries and paired him with many other great musicians, including Henryk Szeryng, Sir John Barbirolli, Sergiu Celibidache, and Antal Doráti. Katz died in 1978 in Istanbul while playing a Beethoven sonata in concert. Like Simon Barere, Dimitri Mitropoulos, and Leonard Warren, his death came while he was doing what he loved the most: making music.
Although his playing is neat and well articulated, Katz takes a Romantic's approach to Bach; there are strong emotional contrasts and expressive colors throughout. Katz, armed with a grand piano, does not pretend it is a clavichord or a harpsichord, and the instrument's full ranges of volume, tone, and color are used. The Chromatic Fantasy and Fugue is imposing, the opening runs ripping out of the piano like flashes of lightning. The Toccata is a study in contrasts, and Katz is both at his most impressionistic and his most severe here. The Italian Concerto is perhaps a little too severe, and not blessed with the high spirits that other pianists have found in it. The two concertos are straight-faced but not heavy, the somewhat unimaginative accompaniments by Newstone and the Pro Arte Orchestra notwithstanding. The Bach/Busoni Prélude, the disc's opener, is a real treasure of concentration and color, and not dissimilar to Lipatti's famous version.
These recordings were licensed from EMI, but Cembal d'amour doesn't indicate recording dates. The sound ranges from acceptable to something requiring a little more tolerance; Katz's tone hardens or is discolored to differing degrees by the recordings. It was not enough to spoil my enjoyment, however. For the most part, Katz's memory is well served by this disc. Contemporary-sounding Bach without expressive or technical exaggeration is always welcome.
Who, many collectors will ask, is David Nadien? That was my question too. The back of this release includes blurbs from Time ("a musical giant") and The New York Times ("[his] style, tone, and technique are perfect"). Upon reading the booklet notes, we learn, among other things, that the 19-year-old Nadien was selected for the Leventritt Award (by none other than Toscanini) in 1946, and that he was concertmaster of the New York Philharmonic between 1966 and 1970. He frequently was a soloist with that orchestra, and with many others.
Shehori was introduced to Nadien's playing by Boris Barere, another fine pianist. (Any relation to Simon Barere?) Shehori describes his reaction to Nadien as "divine shock." "Here, surely," he continues, "was one of music's best-kept secrets." Shehori goes on to compare Nadien's musicianship to that of Kreisler and Heifetz. Although – The New York Times notwithstanding – Nadien's violinism is not "perfect" (whose is?), Shehori is not wide of the mark in his evaluation. Here is a violinist who holds and displays old-fashioned musical values. He is richly emotional (but never lacking in taste), and his throbbing, human tone, like the richness of his portamenti, has more in common with the first half of the previous century than with the second half.
As with the Katz release, more documentation would have been appreciated. We are told that these recordings are courtesy of the Nadien and Barere sound archives. When were they recorded? Have they been released before? The quality of the recording is professional and mostly good, although there is noise and other sonic impairments on some of the tracks. (The source of Kreisler's Caprice Viennois, judging from the bubbly distortions that mar it, might have been damaged.) As with the Katz disc, I think some of the recordings are monaural, but it is not always easy to tell. I suspect that these recordings were made over several sessions, but in a fairly informal situation. Certainly the playing shows no strain, only the love that two musicians must have felt for these pleasantly faded miniatures and for the cultures that produced and nurtured such music and such playing. Minor slips in intonation are of no consequence, and only reinforce the natural, honest qualities of Nadien's musicianship. This disc is most enthusiastically recommended to violin fanciers, who, like Shehori, might find themselves in a state of divine shock as they hear it.
Copyright © 2001, Raymond Tuttle