CD Review
Fantasias and Suites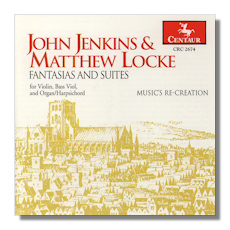 Fantasia Suite #1 in G minor
Fantasia Suite #2 in A minor
Fantasia in A minor
Fantasia in D minor
Matthew Locke: Little Consorts -
Suite #7 in G minor/G Major
Suite #8 in A minor
Suite #9 in B Flat Major
Suite #10 in D minor/D Major
Music's Re-creation
Centaur CRC2674
The very informative essay that accompanies this highly enjoyable CD from the three-person ensemble, Music's Re-creation, on Centaur starts by suggesting that listeners whose knowledge of seventeenth-century English music is limited to its madrigals, to Dowland, and to the songs of Purcell will here have their tastes expanded. And how! This CD contains an hour's worth of varied, subtle, gentle and exciting music for strings and keyboard by practitioners who play with great insight and sensitivity. As an introduction to the works of the two overlooked yet highly enjoyable and distinctive composers, John Jenkins and Matthew Locke this CD could hardly be bettered.
John Jenkins (1592-1678) was the older of the two; Matthew Locke was born almost thirty years after Jenkins (in 1621) though he died the year before him. They lived through turbulent and strife-ridden times: plague, famine and the backwash of the Reformation and the Civil Wars in Britain. Aside from a certain melancholy and dour tone to some of the music on this CD, there's really little of the tearfulness of a Schütz, Schein or Scheidt – their contemporaries. But there is directness and a sense of purpose and compact, spare articulation of the musical ideas, mostly melodic, in the interests of impact. Indeed, several of the movements of the suites (the saraband of Locke's Suite #7 [tr.19], for example) end quite abruptly: they say what they have to say and stop. This has the effect both of bringing the listener up short and making them realise just how important direct and unadulterated communication must have been for such composers. It then pays to approach the melodic invention of Jenkins and Locke with that in mind… to listen to these suites, that is, as one listens to a Classical or Romantic string quartet. For it's true that we have become accustomed at times to listen to music of the Elizabethan and Baroque eras as sound painting, as a tapestry of textures.
It is not: and Moore (Baroque violin), Dornenburg (viola da gamba) and Peters (organ and harpsichord) understand the idiom very well. The music is about concentration, attention to the thematic development and structure as much as it is about the sound world, beautiful though that is: the instruments are either period or reconstructions – the policy of Music's Re-creation since their foundation in the Netherlands in 1979. Needless to say, the trio is technically very sure and accomplished. There is an ease, a grace and elegance to their playing throughout this CD that is located just on the rigorous side of the midpoint between casual and formal. Never staid or forced, their ensemble playing is neither loose nor relaxed. There is a spontaneity that's delightful to appreciate: the forward movement of Locke's Suite #8 [tr.s23-26], for example, is as opulent as it is controled.
In part this exemplary exposure of the music's soul, so to speak, works so well here because the musicians understand the relationship unique to the seventeenth century between modal structure as it found its way into the Fantasia; and the implied harmonies of which we are inevitably conscious from our position four hundred years later. Yet the way in which the strings in particular work to contextualize modality in tandem with counterpoint is sheer delight. This is in part accounted for by the fact that both composers wrote without always specifying instruments. But it's not to suggest that these players are improvising excessively (the ornamentation and "divisions" do require improvisation, of course) or taking undue liberties with the music, or "realizing" it in any way. It's hard to believe that Locke and Jenkins, for all their obvious attention to exactness and communication, wouldn't be entirely at ease with the style and execution offered here.
The usual characteristics of the suites' dance movements are evident – though as English, rather than Continental, composers embraced the medium… decoration not virtuosity. Indeed, there are places where Jenkins takes already obsolete traditions for these movements and bends them to his own ends with dazzling, almost startling, results. Though never gratuitously. These musicians also make the most of the tensions exploited by both composers between decorum, the Puritan restraint of the times (remember Cromwell closed the theaters), and the exuberance of the dance. Yet the rhythm never masks the equally vigorous heart of each movement as a part of each suite or Fantasia.
Since Jenkins alone wrote getting on for a hundred such pieces, one reaches the end of this CD by wishing for more. The intensity with gentility; the gravity with humanity; and the precision with confidence are powerful mixtures. Music's Re-creation (Carla Moore, Baroque violin; John Dornenburg, viola da gamba; Lorna Peters, organ and harpsichord) has captured them admirably. The acoustic is close and dry, though appropriately so: this sounds like less of a "recital", more of a guided offering. Thoroughly recommended.
Copyright © 2010, Mark Sealey.