Related Links
Recommended Links

Site News
CD Review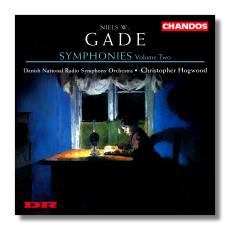 Symphonies, Volume 2
Symphony #4 Op. 20 (1850)
Symphony #7 Op. 45 (1865)
Concert Overture #3, Op. 14
Danish National Radio Symphony Orchestra/Christopher Hogwood
Chandos CHAN9957 65m DDD
This immensely satisfying release features two of Gade's most likeable symphonies coupled with an overture of exuberant warmth and vitality. Hogwood's clinically recorded performances are a joy to listen to and, in my opinion, he comfortably supersedes earlier versions such as those on DaCapo and other obscure labels.
The Fourth is Hogwood's second excursion in this symphony (previously coupled with Frohlich) and he imparts weight and gravitas to the slow movement whilst getting the balance right in the occasionally repetitive allegros that frame the work. The Seventh is more overtly successful with an impressive Allegro risoluto and an infectious Allegro vivace that shows the composer's mature thinking at work. The music is a cross between Mendelssohn and Schumann with a touch of Berwald and never fails to lift the spirits. Indeed, the Concert Overture, which incidentally, receives its première recording here, can be counted as one of the most beautiful works by Gade alongside the "Highlands" Overture (coupled with Symphonies #2 & 8). It receives a spanking performance here.
The beautifully striking cover painting, copious notes and a blemish free recording all add up to a disc of irresistible allure.
Copyright © 2001, Gerald Fenech