Related Links
Recommended Links

Site News
CD Review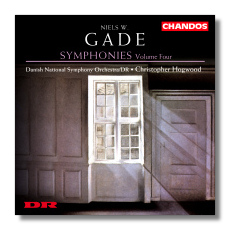 Symphonies
Symphony #1 in C minor "Paa Sjølunds fagre sletter", Op. 5
Symphony #5 in D minor, Op. 25 *
* Ronald Brautigam, piano
Danish National Radio Symphony Orchestra/Christopher Hogwood
Chandos CHAN10026 58m DDD
Christopher Hogwood's triumphant Gade cycle comes to an end with another superlative coupling of the First and Fifth symphonies. In principle, this set surpasses all before it, including the excellent Schønwandt on Da Capo and Järvi on BIS.
Gade's First Symphony is probably his best work and it was not surpassed for its youthful vigour and exuberance by the later works. Hogwood whips up a frenetic basic tempo and the Danes play with brilliant commitment especially in the inspired first movement and the rousing Finale.
I am not so comfortable with Gade's inclusion of a piano part in the Fifth but the music is still of the highest order. Brautigam dazzles with his virtuosity whilst the orchestra again plays with gusto, fervour and commitment for its conductor. Again, the Finale is the cornerstone of the work and the whole interpretation is most wonderfully memorable.
One point of beauty in this series is their artistic covers devoted to window shades and this final one is similarly eye-catching. The whole project cannot be recommended too highly and if you have been collecting the previous instalments in the cycle, then this will definitely make it to your shopping list!
Copyright © 2007, Gerald Fenech