Related Links
Recommended Links

Site News
CD Review
The British Symphonic Collection, Volume 9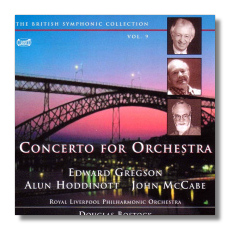 Concerto For Orchestra
Edward Gregson: A Concerto for Orchestra "Contrasts"
Alun Hoddinott: Concerto for Orchestra, Op. 127
John McCabe: Concerto for Orchestra
Royal Liverpool Philharmonic Orchestra/Lewis Foreman
Classico CLASSCD384 78m DDD
This is the ninth release in Classico's laudable British Symphonic Collection and this time the concentration is on living composers.
Edward Gregson's Concerto for Orchestra is a multifariously propelled work; the energetic Intrada gives way to a lovely Elegy that then turns into a savage Rhythmic Toccata that reveals many interesting ideas.
Alan Hoddinott's work is similarly structured but here the Presto that concludes the piece is incredibly complex at one stage it is very much close to the twelve note system.
Finally there is John McCabe's Concerto which is structured in the form of various themes and variations that also reveals McCabe's concern for this type of composition.
All three works are magnificently played and interpreted by the Royal Liverpool Philharmonic Orchestra who are also admirably conducted by Douglas Bostock. Classico also include a fascinating interview with Lewis Foreman and the three composers on record that deals with the various aspects of their music. With expansive notes by LW and a bold stirring recording this 9th volume is another invaluable edition to the ongoing series.
Copyright © 2002, Gerald Fenech