CD Review
Joaquín Turina and 20th-century Spanish Music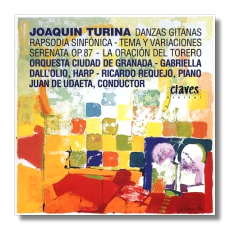 Danzas Gitanas
Rapsodia Sinfónica
Tema y Variaciones
Serenata
La Oración del Torero
Ricardo Requejo, piano
Gabriella Dall'Olio, harp
Orquestra Cuidad De Granada/De Udaeta
Claves CD 50-9215 DDD 55:44

Rapsodia Sinfónica
La Oración del Toro
Cuatro Madrigales Amatorios
Tres Viejos Aires de Danza
Zarabanda Lejana y Villancico
Gustavo Romero, piano
Ruth Golden, soprano
San Diego Chamber Orchestra/Donald Barra
Koch International 3-7160-2H1 DDD 45:24

Canciones Españolas
Joaquín Turina: Poema en forma de canciones
Joaquín Rodrigo: Cuadro Madrigales Amatorios
Fernando J. Obradors: Canciones clásicas españoles (extracts)
Jesús García Leoz: Tríptico de canciones
Joaquín Nin: Five Songs
Manuel de Falla: Tu ojillos negros
Maria Bayo, soprano
Álvarez-Paejo, piano
Claves CD 50-9205 DDD 70:29
On the strength of these three recordings Joaquín Turina (1882-1949) comes across as a composer of music whose virtue was its local colour rather his own individuality – which is more or less a fair assessment. You won't find here the rhythmic individuality of Albéniz or Granados, from a slightly earlier generation, nor the sober, sparse textures of de Falla from a slightly later one. Turina offers more or less picture-postcard Spanishry, which won't disappoint if you aren't expecting anything more. The notes with the Claves CD quote Turina to the extent that his native Andalusia "has often been the victim of many 'colourist' composers […]. They have stereotyped its rhythms, corrupted its songs and distorted its atmosphere". Reading uncharitably between these lines one arrives at the heart of the Turina problem: in contrast with those composers who have stamped their originality on their adopted material (and thereby, Turina might have added, killing the thing they loved), he was content to filter it through his Impressionist style, leaving it more or less whole when he had finished with it.
Two works feature on both the Claves and Koch programmes, the Rapsodia Sinfónica (1930 – 31) for piano and orchestra and La Oración del Torero (1925), perhaps his best-known work. The Rapsodia Sinfónica deserves the noun in its title more that the adjective: it's a brief (nine-minute) ramble on some predictable Spanish rhythms, diverting and forgettable. The American performance is the stronger of the two, paradoxically, perhaps, because it emphasises the work's lyrical, rhapsodic qualities which the Spanish players neglect in an attempt to make something bigger of it. The standard of performance varies, too: Gustavo Romero and the San Diego Chamber Orchestra are far superior to Ricardo Requejo and the sometimes scrappy Granada orchestra. The Bullfighter's Prayer – initially composed for lute quartet, soon lost, recomposed for string quartet and quickly scored for string orchestra – is likewise happier in its Californian incarnation: the playing is superior, and although the orchestra is not much smaller than the Granada group, its sound has a cutting edge which helps give the music bite.
The Danzas Gitanas, which open the Claves disc, were originally composed for piano in 1930, and were premièred in that form in 1932, Turina later orchestrating them (a second set of piano pieces followed in 1934). It's tuneful stuff, which amuses and then departs. There is a little more substance to the Tema y Variaciones for harp and strings, which was first written, for harp and piano, in 1945, and which Rafael Frühbeck de Burgos has arranged for harp and strings. The arrangement, indeed, presents harpists with a work that is pretty well new (it was premièred by the late Nicanor Zabaleta in 1979) and should well find its attractive way into the repertoire, which is hardly overburdened with works of this sort. Lastly chez Claves, there is the charming Serenata for string orchestra, also an expansion of a string-quartet original (1935); the notes make claims for the complexity of its musical language which the music itself doesn't support (it's all relative, I suppose). But it does have more substance than any other of the pieces on the Claves disc, at times belying the innocence of its title – perhaps its closest musical cousin is Debussy's Danse sacrée et danse profane.
The Koch collection continues with three pieces by Joaquín Rodrigo. First come the joyous and piquant Cuatro Madrigales Amatorios from 1947, initially written with a piano accompaniment and orchestrated after a year, in which Ruth Golden is the solo soprano; it must by now be a critical cliché to say that her voice resembles her surname, but it's true enough. The melody of the last of the Madrigals may be familiar from a different setting: it provided the material for much of the finale of Rodrigo's Concierto Serenata for harp and orchestra of 1952, a gorgeous work that ought to be just as well known as the Concierto de Aranjuez. Tres Viejos Aires de Danza and the Zarabanda Lejana y Villancico, both works from the beginning of Rodrigo's composing career in the 1920s, show his attachment to the history of Spanish music, but in rather different lights: the Tres Viejos Aires de Danza are little more than pastiche, though undeniably affectionate, whereas the first part, the sarabande, of the Zarabanda Lejana y Villancico is hauntingly beautiful, another of Rodrigo's night-pieces, offset by the rustic charm of its villancico. Barra and his musicians do these pieces very fetchingly.
Turina and Rodrigo again share the bill, this time with five other Spanish composers (well, to be honest, four Spaniards, since Joaquín Nin was Cuban), in Maria Bayo's superb song recital on Claves. She opens with the voice-and-piano version of the Cuatro Madrigales Amatorios, which allows an interesting comparison with the chamber-orchestral scoring on Koch. I have to say that the orchestration adds so much colour that it is a run-away winner. The vocal techniques provide an interesting contrast, too: after Ruth Golden's rich, almost operatic approach, Bayo's initially struck me as rather hard and expressionless – until I realised how much more Spanish she made the music sound. Indeed, thoughout her programme, Bayo makes the music sparkle utterly naturally. She has an unfailingly beautiful tone, but it is beautiful without striving, without effort. She and her alert accompanist, Juan-Antonio Álvarez-Parejo, invest all 33 songs here – and many of them are real gems – with a wit and verve that makes this disc irresistible. There can't be many people it would not cheer up.
Copyright © 1996/1998, Martin Anderson