CD Review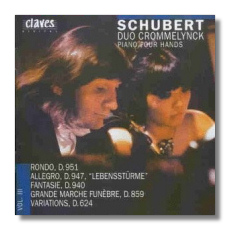 Music for Piano Four Hands, Volume III
Rondo in A Major, D. 951
Allegretto "Lebensstürme" in A minor, D. 947
Fantasie in F minor, D. 940
Grande Marche Funèbre on the Death of Alexander I of Russia in C minor, D. 859
Eight Variations on a French Song, D. 624
Duo Crommelynck
Claves CD 50-9413 DDD 72:54
What would have been a cause of celebration becomes instead a source of sad reflection. In what seems to have been a suicide pact, the husband-and-wife team of Patrick and Taeko Crommelynck died in July this summer. That knowledge lends their last recording, the third instalment in their Claves series of Schubert's music for piano duet, a poignancy that for all the wrong reasons enhances the emotional ambiguity in Schubert's musical language.
This disc contains three of the best known of Schubert's works for four hands at one keyboard, the Rondo in A Major, D951, the A minor Allegretto, D947, known as 'Lebensstürme', and the great Fantasie in F minor, D940, all from his last year, followed by two less well-known pieces, the C minor Grande Marche Funèbre on the Death of Alexander I of Russia, D859, from the end of 1825, and the Eight Variations on a French Song, D624, from July 1818. All are substantial in length, ranging from almost eleven minutes (D951) to over seventeen (D940).
The Crommelyncks produce performances that are fully up to their previous standards – that is, they are not revelatory, but they are thoroughly reliable and can safely be acquired by anyone wanting to acquire this repertoire. Although 'Lebensstürme' ('Life's Storms') was not Schubert's title, it does express something of the drama that inhabits its sonata structure (Patrick Crommelynck's notes talk of 'its violent and tragic character'); the Crommelyncks don't quite get that cutting edge, nor do they manage the full sense of scale that the Fantasie should have. But they make of the Grand Marche Funèbre a work worthy to stand alongside its better-known cousins, bringing a depth of feeling that suggests that this substantial piece (it last almost a full quarter-hour) has been rather overlooked; it seems clear that Alkan may have known it rather well. It lacks a little variety, perhaps, but you can hardly expect a grand funeral march to encompass folk dance and popular song.
I would have preferred slightly less bloom around the piano sound – four hands, at one of two keyboards, can produced a massive, elemental noise that shouldn't be too much attentuated. I did find, though, that an annoying swish (clothes rustling, or pedal noise?) on headphones disappeared when I moved to loudspeakers.
Whatever marginal quibbles this or any other critic may have about the success of these interpretations, the irreducible fact remains that two outstanding musicians are dead. This is a noble tombstone, erected far too early.
Copyright © 1996/1998, Martin Anderson