CD Review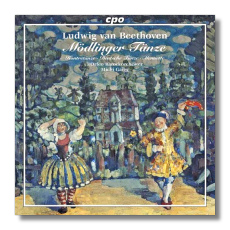 Mödlinger Tänze
12 Contredanses, WoO 14
12 German Dances, WoO 8
6 Minuets, WoO 9
11 Mödling Dances, WoO 17
L'Orfeo Baroque Orchestra/Michi Gaigg
CPO 777117-2 DDD 66:30
Even when Beethoven was writing trifling little dances for Vienna's Redoutensaal, he still sounded like Beethoven. In late 1792, he came to Vienna to study with Haydn, who soon demonstrated to his pupil the art of writing public dance music. Within three years, Beethoven had composed at least three sets of dance music: the 12 Contredanses (WoO 14), 12 German Dances (WoO 6), and 6 Minuets (WoO 9). These were used in the Redoutensaal in November 1795. Beethoven's name was mentioned in the Wiener Zeitung, and he soon was asked to make a piano arrangement of the German dances and minuets. He was climbing the ladder of fame.
Beethoven's best mentors in these genres were Mozart and Haydn, of course, who also composed music for the Redoutensaal. While these masters wrote public dance music relatively late in their careers, Beethoven was just at the beginning of his. He had everything ahead of him, and one can hear that in many of these dances, even if some of them are only 36 seconds long! In fact, Contredanse #7 will sound very familiar to many listeners, because it is also appears in the Finale of the "Eroica" Symphony, as well as in The Creatures of Prometheus. (Contredanse #11 also appears in that latter work.) It should be noted that two of the Contredanses (Nos. 8 and 12) were composed by Beethoven's younger brother. Another prediction of the Beethoven to come can be heard in the extended coda to his German dances. Not only does Beethoven introduce a brash posthorn here (another glance back at Mozart, who had died a few years earlier), but the almost blustery rhetoric, as Beethoven prepares the dancers to take their leave, already finds the composer shaking his fists, albeit in good humor. The Minuets, apparently composed for a more intimate setting (a smaller room, at least), introduce a harp, to unexpected and beguiling effect.
It is uncertain whether or not Beethoven actually composed the Mödling Dances, supposedly named after the village where they first were played. Anton Schindler, Beethoven's early biographer, seems to indicate that the dances are Beethoven's, and that they were written rather later in his life. This set contains a selection of three different genres: waltzes, minuets, and ländler. Frankly, the music seems a little less typical of Beethoven than the other three sets, yet there's nothing about them that denies Beethoven's authorship, at least as far as my ears are concerned.
The L'Orfeo Baroque Orchestra was founded in 1996 to play both works in the standard repertoire and little known music from the Baroque and early Classical eras. They use authentic instruments and historically-informed performance practices. On this CD, their ninth for cpo, they seem to be enjoying themselves. The rhythms are nicely sprung, although L'Orfeo is careful to remember that these dances were intended largely for a genteel crowd, so no "common" crassness or exaggeration is allowed. There are nine violins (conductor Gaigg also plays), two cellos, double bass, and the expected winds and percussion. It all sounds very jolly, and the size of the ensemble is appropriate for the music and the performance style. As is said in the personals ads, height and weight are proportional. This is Beethoven at his most gracious, and the performers respond accordingly. Very enjoyable!
Copyright © 2006, Raymond Tuttle