CD Review
Singspiel
In the most general sense, the term singspiel has been applied since the 16th century to any kind of play with music, from medieval and Renaissance dramas to English ballad operas to Mozart's Abduction from the Seraglio. More narrowly, it denotes a particular genre of early 19th century German comic operas, derived (like much else in German bourgeois culture) from French models and popular as an alternative to "grand" opera, that later merged with the operettas of Strauss, Lehár. et al. These lighthearted works were generally in one act with dialogue interspersed with arias, and their plots were often derived from the commedia del arte tradition, in which a foolish or avaricious or lecherous old man is thwarted by the wit of a clever servant or woman or both. EMI brought out ten of these pieces, most of them recorded in the late 1970s; they are all performed affectionately by excellent casts, and CPO has now reissued them on CDs in very good sound. The program booklets include plot synopses that are sometimes helpful, sometimes not, and always in fractured English translation that can be amusing (one of them refers to the "stoned guest" in Mozart's Don Giovanni). But they do not include the texts, and this is a serious deficiency for listeners who do not understand German (or French, in the case of the Rousseau piece). However, the charm of the music, the skill of the singers, and CPO's budget price almost make up for it.
---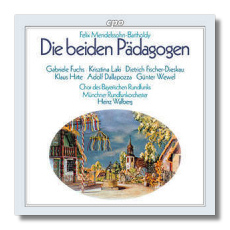 Krisztina Laki, Gabriele Fuchs, sopranos
Adolf Dallapozza, tenor
Dietrich Fischer-Dieskau, Klaus Hirte, baritones
Günter Wewel, bass
Ingrid Heitmann, dialogues
Bavarian Radio Chorus/Josef Schmidhuber
Munich Radio Orchestra/Heinz Wallberg
CPO 999550 52:49
Mendelssohn, who was every bit as prodigious a child as Mozart, wrote "The Two Pedagogues" at the age of 12; the work was performed in 1821 in the Mendelssohn home, then lost until 1960. The libretto by Johann Ludwig Casper, a family friend, is based on a play by Eugène Scribe and reflects the contemporary debate about educational reform between the "practical realism" of Basedow and Pestalozzi's greater concern for the child's individual development. The plot concerns the efforts of Herr Robert, an ambitious country gentleman, to educate his son Carl, who is more interested in Robert's niece Elise than in becoming a scholar. Kinderschrecht, the old-fashioned local schoolmaster, recommends that Robert hire a learned professor from Vienna, but the invitation is intercepted by the professor's valet, Luftig, who takes his place and, with the help of Hännchen, the schoolmaster's niece, frustrates their plans and contrives a happy ending. Mendelssohn had not yet developed a distinctive voice, but while the piece is clearly Mozartean in inspiration, it is none the worse for that, and the arias and ensembles are witty and tuneful. In this 1978 recording, Fischer-Dieskau as Kinderschrecht has a great time with an aria praising the use of the cane, Fuchs is an attractive Hännchen, and everybody else (including chorus and orchestra) performs well.
---
Edda Moser, soprano
Nicolai Gedda, tenor
Kurt Moll, bass
Peter Brand, Heidy Forster, Manuela Renard, speaking roles
Bavarian State Opera Chorus/Wolfgang Baumgart
Bavarian State Opera Orchestra/Wolfgang Sawallisch
CPO 999551 47:19
The 24-year-old Carl Maria von Weber and his librettist, Franz Carl Hiemer, were themselves heavily in debt when they wrote this rogue's tale of a debtor in 1810, hoping it would help to restore their fortunes. The plot, based on an Arabian Nights story, concerns Abu Hassan and his wife Fatime, who have wasted their resources in revelry and are now besieged by their creditors/the money-changer Omar, who offers to pay them off in exchange for Fatime's favors. Abu has the bright idea of pretending to be dead so that Fatime can claim his burial costs from the Caliph's wife Zobeide, and when that works, Fatime pretends to be dead so that Abu can get gold from the Caliph. Ultimately the Caliph turns up to find out whether anyone is really dead, and hearing Abu's account of Omar's blackmailing attempts, scolds Omar and rewards Abu. The music is skillfully written, imaginative, sprightly and full of good tunes, with a splendid chorus of the creditors demanding "Geld! Geld! Geld!". Recorded in 1975, the youthful Gedda and Moser sing with gleaming voices, Moll does an effective comic turn as Omar, and the chorus and orchestra are obviously having the time of their lives.
---
Anneliese Rothenberger, Helen Donath, Regina Marheineke, sopranos
Nicolai Gedda, tenor
Klaus Hirte, baritone
Walter Berry, bass
Bavarian State Opera Chorus/Wolfgang Baumgart
Bavarian State Opera Orchestra/Otmar Suitner
CPO 999552 49:04
After the wars with the Ottoman Empire, the Turks – their dress, manners, and music-fascinated 18th century Europe, and poking fun at them became standard fare in Parisian vaudevilles. Gluck picked up the theme in 1761 after he became conductor of the French Opera in Vienna, using a translated French libretto by P.R. Monnier that had already been set to music by Monsigny. La Cadi Dupée ("The Duped Cadi") was believed lost until it was rediscovered in the archives of the Hamburg State Opera by the producer of this recording. The central character is a Cadi (a Muslim judge) who wants to marry the reluctant Zelmire, to the dismay of his wife Fatime. Zelmire, in love with Nuradin, pretends to be Omega, the unattractive daughter of the dyer Omar; after the marriage contract is signed and Omega appears, the Cadi has to buy his way out of the imbroglio and return contritely to Fatime while Zelmire and Nuradin go off happily. The music has many of the characteristics of Gluck's reform opera Orfeo ed Euridice, written one year later, in its simple lines, integration of arias into the plot, and use of chords and quick modulations to delineate characters and events. The piece is skillfully orchestrated, incorporating instruments found in janissary bands; it employs a minimum of dialogue, the chorus appears only in the finale, and the mostly strophic arias are lovely. The singers and the orchestra in this 1977 recording are first-rate, with Donath radiant as Zelmire and Walter Berry's rich bass voice used to great comic effect in the title role.
---
Helen Donath, soprano
Sunhild Rauschkolb, alto
Willi Brokmeier, Friedrich Lenz, Peter Schreier, tenors
Dietrich Fischer-Dieskau, baritone
Fritz Strassner, speaking role
Bavarian Radio Chorus/Josef Schmidhuber
Munich Radio Orchestra/Heinz Wallberg
CPO 999553 37:48
Schubert wrote a number of operas because he thought that's where fame and fortune could be found, but he didn't have much dramatic sense, and although all of them contain some lovely music, none of them was successful. This one, "The Four-Year Posting," is a brief piece based on the one-act farce La Vedette, written in 1812 as a gay finale for a Viennese theater performance by the Dresden poet Theodor Körner, originally with music by Karl Steinacker. Schubert picked it up in 1815, but his work remained unperformed until 1896. The simple plot concerns Duval, who has deserted the army to remain with his wife Käthchen; when troops arrive to arrest him, he persuades the General – with the help of the villagers – that he has spent four years at his sentry post waiting for relief that never came, and he is released. The music opens with a long and uninspired symphonic overture that takes up 20 percent of its total length and is out of proportion to its scale. There is minimal dialogue and only one solo aria, for Käthchen (beautifully sung by Donath); everything else is a concerted number, often with chorus. It is all very pretty and well done by the singers, chorus, and orchestra in this 1977 recording, but it is far from top-drawer Schubert.
---
Edda Moser, Gabrielle Fuchs, Elke Schary, sopranos
Gudrun Greindl-Rosner, Sunhild Rauschkolb, altos
Martin Finke, Adolf Dallapozza, tenors
Kurt Moll, bass
Bavarian Radio Chorus/Josef Schmidhuber
Munich Radio Orchestra/Heinz Wallberg
CPO 999554 64:31
Die Verschworenin ("The Oath-Takers") was written in 1823, and is longer, livelier, and more entertaining than Die vierjährige Posten. The libretto is by Ignaz Castelli, a specialist in romanticizing antique subjects, and is a variation on Aristophanes' Lysystrata. The ladies of Count Heribert's court are fed up with the absences of their husbands at war, and led by Countess Ludmilla, swear an oath to withhold their affection until the men promise to stay at home. The page Udolin overhears the plot and informs the Count as he is returning, whereupon Heribert and his knights decide to claim that they too have sworn an oath not to show affection until the women put on armor and join them in a crusade. In the finale – a long and complex number written in Schubert's most genial style – the women agree wear armor and the men promise to stay home. There is no overture, though presumably one would have been written if the piece had been performed in Schubert's lifetime. The score includes mild parodies of the excesses of more serious operas; the orchestration and the concerted numbers are well-written and imaginative, and there are several lovely solo arias, all performed attractively in this 1977 recording. The piece may have been performed privately as early as 1830, but its first public performance was in 1861; it is full of charming and witty music and deserves to be heard more often.
---
Helen Donath, soprano
Hanna Schwarz, alto
Peter Schreier, tenor
Dietrich Fischer-Dieskau, baritone
Benno Kusche, bass
Bavarian Radio Chorus/Josef Schmidhuber
Munich Radio Orchestra/Heinz Wallberg
CPO 999555 62:17
Mendelssohn was all of 20 when he wrote Die Heimkehr aus der Fremde ("The Return from Abroad"); he was in England at the time, and brought it home as a gift for his parents' silver wedding anniversary. The libretto by his friend Karl Klingemann was suitable to the occasion: the central figures are Hermann, who has gone off to the Foreign Legion, his mother and his sweetheart Lisbeth, who are longing for his return, and Kauz, a traveling grocer. The village is celebrating the 50th anniversary of the magistracy of Hermann's father when Kauz turns up, posing as the absent son; when Hermann appears disguised as a musician; Kauz tries to chase him away but fails, and it all ends happily, as you might expect. The music is in Mendelssohn's sweetest and most affectionate vein, with sparkling arias and lovely choral numbers, and everyone involved performs well. They are obviously enjoying themselves in this 1977 recording, and the listener will do so as well.
---
Helen Donath, soprano
Nicolai Gedda, tenor
Dietrich Fischer-Dieskau, baritone
Kurt Moll, Hans-Joachim Gallus, basses
Bavarian State Opera Chorus/Wolfgang Baumgart
Bavarian State Opera Orchestra/Wolfgang Sawallisch
CPO 999556 47:17
Die Zwillingsbrüder ("The Twin Brothers") is another of Schubert's attempts to establish himself as a composer of stage works, and this one, written in 1819 and produced the following year, had at least a modest – and deserved – success in spite of its lack of dramatic momentum. The libretto, better written than most of the others, was adapted by the experienced dramaturge of the Kärntnertor theater, Georg E. von Hofmann, from a French comedy, Les Deux Valentins. In it, Anton and Lieschen are celebrating their engagement when they are horrified by the appearance of Franz, a hard-bitten Foreign Legionnaire who claims Lieschen's hand and dowry, promised to him by her father eight years earlier. When Franz's long-lost and gentle twin brother Friedrich turns up, confusion ensues until all is resolved; the brothers are re-united and the lovers fall into each others' arms. The music is light, charming, and Mozartean in flavor, the roles are deftly characterized, and several of the arias approach the depth of the lieder Schubert was writing at this time. Donath is a lovely Lieschen, Gedda a robust Anton, and Fischer-Dieskau, playing the twin brothers, makes the most of the differences between them in both dialogue and song. Recorded in 1974, this is easily the most consistently entertaining of the three Schubert pieces in the CPO series.
---
Albert Lortzing: Die Opernprobe
Kari Lövaas, Regina Marheineke, sopranos
Gisela Litz, alto
Nicolai Gedda, tenor
Klaus Hirte, baritone
Dieter Miserre, Walter Berry, basses
Horst Sachtleben, speaking role
Bavarian State Opera Chorus/Wolfgang Baumgart
Bavarian State Opera Orchestra/Otmar Suitner
CPO 999557 46:07
Albert Lortzing (1801-51) was well-known for his many comic operas, though only Zar und Zimmermann is familiar to us today; Die Opernprobe ("The Opera Rehearsal") was first performed in 1851 on the day before his death. He wrote the libretto himself, as he usually did for his operas, basing it on a popular comedy by Johann Friedrich Jünger that itself derived from a French play by Phillippe Poisson. It concerns young Baron Anton, who is fleeing from an unwanted marriage to a girl he has never met; when he turns up at the opera-mad Count's court, he and his servant Johann masquerade as musicians. Hännchen, maid to the Count's daughter Louise, has been pressed into service to conduct a rehearsal, and when she realizes that it is Louise whom Anton is supposed to marry, she manages to arrange things so that they are happy together, as she is with Johann. The plot allows Lortzing to poke gentle fun at the pretensions of musical amateurs and the imitators of Gluck's opera seria; the music, while it lacks the melodic imagination of Schubert and Mendelssohn, is pleasant and workmanlike. The singers, chorus, and orchestra perform well under Suitner's artful direction.
---
Eugen d'Albert: Die Abreise
Edda Moser, soprano
Peter Schreier, tenor
Hermann Prey, baritone
Philharmonia Hungarica/Janos Kulka
CPO 999558 45:51
Eugen d'Albert's Die Abreise is an oddity in this series; it was written much later than the others and isn't really a singspiel in form or content. Composers in the late 18th century confronted the problem of adapting to the innovations of Wagner's operas in different ways, and what d'Albert (composer of the better-known Tiefland) wrote in 1898 is at the same time a backward-looking musical comedy in the style of Wolf-Ferrari and a premonition of comic operas to come, like Richard Strauss's Intermezzo. It is through-composed, with a succession of brief arias interspersed with recitatives accompanied by orchestra, rather than spoken dialogue. The libretto, by Ferdinand Graf Sporck (after a play by von Steigentesch) offers a simple three-character plot: Gilfen's suspicions are aroused by his friend Trott's efforts to get him to leave on a trip, and when he returns unexpectedly, he finds Trott trying to make love to his wife Luise; Trott is sent packing and the couple settle back into marital bliss. Nothing much happens in the music either, but it is skillfully written and consistently melodious. Recorded in 1974, the three singers and the orchestra are in top form.
---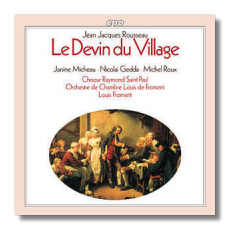 Jean-Jacques Rousseau: Le Devin du Village
Janine Micheau, soprano
Nicolai Gedda, tenor
Michel Roux, baritone
Raymond Saint-Paul Chorus
Louis de Froment Chamber Orchestra
CPO 999559 54:07
This piece represents a very different tradition from the others in the CPO series. Jean-Jacques Rousseau was not only a philosopher, autobiographer, and educational reformer, but also a composer whose works and views on music were influential for many years. A visit to Venice led to his enthusiastic support of Italian opera, and Le Devin du Village ("The Village Sooth-sayer") was written in the style of an Italian intermezzo; in its formal simplicity, it sounds more like Gluck's reform operas than the florid baroque of his contemporaries. Presented at court in 1752, it was hugely popular until well into the 1830s, when it came to be regarded as a relic of the ancien régime. The ingenious libretto by Rousseau himself presents us with Colin and Colette, who separately visit the village sooth-sayer hoping to learn how they can ensure the other's love; the sooth-sayer manages to bring them together and goes off happily with their money, and the pastoral theme is echoed in the concluding pantomime-ballet. The arias and recitatives (accompanied by basso continuo) are enchanting, and all the music has great verve and grace. This is the first and only recording of the piece; it was beautifully performed in 1956 by an excellent French cast and orchestra and is well worth hearing.
Copyright © 1998, Alexander J. Morin