CD Review
Carson Kievman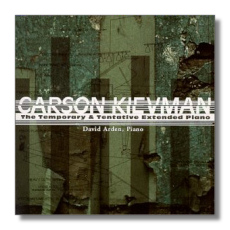 The Temporary & Tentative Extended Piano
The Temporary & Tentative Extended Piano
Introdictus
Toccatada
Meditation
Harpo
Nuts & Bolts
David Arden, piano
CRI CD845 DDD 61:53
Carson Kievman came to my attention several years ago with his Symphony #2(42), a weighty, transcendent, and sometimes hallucinatory memorial to Mozart that rang the changes on music from the Viennese composer's Requiem, specifically the "Lacrymosa." When New Albion Records released their recording of Kievman's Symphony #2(42) in 1996 (NA081CD), they indicated that a New Albion CD of the composer's complete piano music, as played by David Arden, was forthcoming. That disc never appeared; now it's here, albeit on a different label. The classical music recording industry is full of mysteries!
Kievman was born in 1949 and received his Masters of Fine Arts degree from the California Institute of the Arts in 1977. He's spent most of his time in Germany and in the United States, and his music has been used by dance companies and in museums, as well as in the more traditional theaters and concert halls. Recently, Kievman was granted a Naumberg Fellowship to Princeton University. He's been around and received some acclaim, yet I believe that this is only the second all-Kievman CD to become available.
This disc's overall title is The Temporary & Tentative Extended Piano, which is the earliest work here, and the last on the CD. It is a kind of mad music theater; one performing version of this piece requires a page-turning "Butler" and several other "Servants," and the pianist sits on a spring-supported platform where he also has access to cowbells. The work ends with the performer collapsing in exhaustion. It is in this format that the work was performed for Joseph Papp's New York Shakespeare Festival, and page 3 of CRI's booklet has the photograph to prove it. The work starts like Messiaen (a Kievman mentor) and becomes progressively more disheveled, as an angry shout from the pianist further suggests! It alternates between obsessive bell-ringing (on the keyboard, more than away from it) and grimly tolling passages in the piano's lower regions. Six minutes in, a vulnerable melody appears in the right hand, but it soon is borne away by the vertiginous action that culminates in the pianist's staged breakdown. What it all means is anyone's guess, but it is fun, even without the visual component.
The other substantial piece on this CD is Meditation, which was begun in 1992 and completed in 1998. It is in two sections and is 24 minutes long. The booklet describes the first section as "a descent into Hades in slow motion," and Kievman requests very slow tempos from the pianist. The juxtaposition of very loud and very soft chords (with many pregnant pauses in between) creates a frozen or marmoreal effect. Kievman reinforces this effect with nature noises
-- thunder, rain, cicadas – another mysterious choice, but again, one that is moving rather than New Agey. Later, the music takes on a nostalgic – but not sweet! – quality. Bells toll again, both in the piano and apart from it. It's reminiscent of Arvo Pärt's music at its most hypnotic and personal. The other four works on this CD complement the two featured pieces. All except Harpo (1986, the composer's return to composing after a three-year hiatus) were written in the 1990s. The booklet aptly describes Toccatada as "an almost Dadistic toccata… in the spirit of Nancarrow playing Prokofieff playing Bach." The tempo is "as fast as possible."
David Arden, a true hero to composers of modern keyboard music, makes Kievman's quirky creations viable. The engineers have gifted Arden and Kievman with good sound. This unusual CD is well worth your exploration.
Copyright © 2000, Raymond Tuttle