Related Links
Recommended Links

Site News
CD Review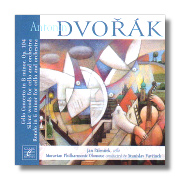 Complete Concertos
Cello Concerto in B minor, Op. 104
Silent Woods for Cello and Orchestra
Rondo in G minor for Cello and Orchestra
Jan Páleníček, cello
Moravian Philharmonic Olomouc/Stanislav Vavřínek
Cube Bohemia CBCD2425 52m DDD

Piano Concerto in G minor, Op. 33
Violin Concerto in A minor, Op. 53
Jitka Čechová, piano
Jana Nováková, violin
Moravian Philharmonic Olomouc/Stanislav Vavřínek
Cube Bohemia CBCD2424 71m DDD
These are interesting if unremarkable recordings of the complete concertos by Antonín Dvořák in rather patchy sound. The soloists are almost unknown although they play with conviction and evident empathy for the music and they do receive good support from the fine Moravian Philharmonic under the capable direction of Stanislav Vavřínek.
Jitka Čechová plays the Piano Concerto with youthful prowess but she cannot hope to match the classic and legendary recording with Sviatoslav Richter and the much lamented Carlos Kleiber that has remained the prime recommendation for this work for almost three decades. The Violin Concerto compares better although it will not replace my much loved copy of Tasmin Little with Vernon Handley on EMI.
In the Cello Concerto, there are a myriad of classic recordings that have stood the test of time. You cannot fail to be moved by such great soloists as Jacqueline du Prè (EMI), Mstislav Rostropovich (DG/BBC Legends), Pablo Casals (Dutton Labs) or Paul Tortelier (EMI) who have brought such distinction and empathy to this great work. Páleníček does pale in comparison to these legends but I enjoyed his interpretation just the same, with a particularly robust Allegro moderato. The accompanying works are also winningly done although at 51 minutes, this is a bit short for today's standards.
The set's presentation is quite attractive and there are also some interesting notes that serve as a good introduction to these works. Newcomers may be attracted by the proposition of acquiring all the concertos in one package but with a little more outlay, there are finer performances to be found.
Copyright © 2005, Gerald Fenech