CD Review
Voices of Ascension
Kathy Thiel, Michele Eaton, Allesandra Visconti, Sopranos
Alexandra Montano, mezzo-soprano
Women of the Voices of Ascension/Dennis Keene
Delos DE3219 76:31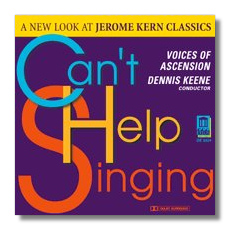 Jerome Kern
Can't Help Singing: 19 Songs
Voices of Ascension/Dennis Keene
Delos DE3224 54:37
A rather unlikely pair of releases, you might judge. The Hildegard chants, to be sure, fall perfectly into this celebrated group's bailiwick. But you may not be aware that the Voices of Ascension have also appeared in selections on so-called crossover recordings in the recent past on this same label. Still, the release of music by Jerome Kern is the first disc of theirs devoted exclusively to 20th-Century music in the popular vein.
With regard to the Hildegard disc, let me say right off that anyone with an interest in this mystic composer's works or in Medieval music in general should acquire it without hesitation. Kathy Thiel's singing is impressive throughout. In O virga ac diadema, the disc's opening selection, she immediately captures your attention with her pristine passion and utterly convincing phrasing. In her other offerings here, most notably O Ecclesia and O Ierusalem, aurea civitas (misprinted on the back cover and in the booklet page as "civitatis"), she serves up intimate and appropriately sacral renderings of these beautiful hymns. Mezzo Alexandra Montano is equally effective: try her O viridissima virga or Columba aspexit. The two choral groups, soprano and alto, are in splendid form, as well: I especially like the work by the latter forces in Columba aspexit.
On the whole, I'll rank this CD as among the two most important Hildegard releases in recent years, the other being the September 1997 issue on Harmonia Mundi by the Anonymous 4. That CD, however, was not an all-Hildegard effort. So, for Hildegard devotees this disc may well be the single most indispensable one yet.
The Kern disc is another winner, but be forewarned: though this composer's songs have withstood many (good and bad) arrangements, these choral renderings will lack a certain intimacy to most listeners accustomed to more traditional performances. And, too, the sparsely-scored arrangements (some are A cappella) strip away some of the glitter and sparkle of the "musical" origins of these songs. Still, even those taken aback by these unorthodox presentations will find much of great appeal here: the performances are excellent throughout and the sound is superb. Can I Forget You, Pick Yourself Up, A Fine Romance, Can't Help Singing, Ol' Man River and Smoke Gets In Your Eyes are among the many hits contained on this CD.
Delos provides excellent sound, complete texts, and intelligent notes for both discs.
Copyright © 1998, Robert Cummings