CD Review
Reinventing Guitar II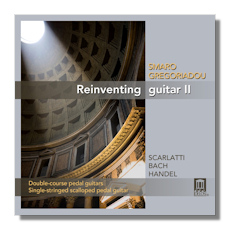 Keyboard Sonata in A Major, K.322/L.483/P.360 1
Keyboard Sonata in D minor, K.1/L.366/P.57 1
Keyboard Sonata in F Minor, K.481/L.187/P.504 1
Keyboard Sonata in E minor, K.198/L.22/P.132 1 *
Keyboard Sonata in D Major, K.491/L.164/P.484 2 *
Prelude, Fugue & Allegro in E Flat Major, BWV 998 2
Toccata in E minor, BWV 914 1
Keyboard Suite #5 in E Major, HWV 430: IV. Air With 5 Variations, "Harmonious Blacksmith" 2 *
Chaconne in G Major, HWV 435 2
1 Smaro Gregoriadou, double-course pedal guitar
2 Smaro Gregoriadou, single-stringed scalloped pedal guitar
* Recorded Premiere
Delos DE3419 61:09
With no less than three works being recorded for the first time, on two different styles of guitar, and with original arrangements to boot, this disc is an ambitious undertaking. Smaro Gregoriadou's second volume of "Reinventing Guitar" nonetheless delivers on its promise to be something new and different. While I have not yet heard Volume 1, it's not needed to appreciate any of the excellent music making going on here, nor to understand that your idea of classical guitar may indeed change by the end of the program.
If you're a long-time collector like me, you probably have some Segovia, Williams, or Bream in your collection, just to name some of the famous guitarists that might see time on your shelf. And if you're like me, you'll notice that this kind of music tends to run together, even when played at the highest caliber. So it's refreshing to say that Gregoriadou brings something entirely unique to the party. It's not even about who's best, or better, or any other arbitrary argument. While Gregoriadou is incredibly accomplished, musical, and intelligent, I speak for the moment on the unique timbres she draws from her guitars and the utterly fascinating effect this has on the ear. It's a brighter tone than most, for sure, and entirely idiomatic considering the baroque-era pieces chosen for the program.
And what a program: each piece is good as the next, sounding as if it was written just for the guitar. This stands not only as a testament to Smaro Gregoriadou as an interpreter, but also as an arranger. Guitar arrangements can be difficult, and all too easily they can sound garish and forced. When I say that you can't tell which pieces are being premiered, I mean that as a compliment, for each piece is played with total commitment and impressive virtuosity. Better yet, the guitarist herself narrates the disc's final track, a seven minute discourse on tunings with musical examples. For a non-guitarist, it's not the easiest thing to follow, and it isn't for everyone, but as a bonus it is generous and entirely in the spirit of "redefining"
Delos does very good work and has produced some outstanding recordings. This is no exception, though the sonic quality occasionally varied from track to track and proved disconcerting. Taken as a whole, though, I can only applaud the efforts of Smaro Gregoriadou and her quest to reshape the way we look at, and listen to the guitar. Warmly recommended.
Copyright © 2013, Brian Wigman