CD Review
Mauricio Kagel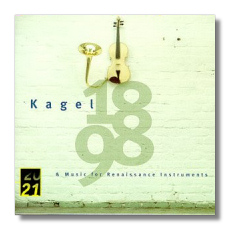 1898
Music for Renaissance Instruments
Instrumental Ensemble
Children of the "Hauptschule Peter-Griess-Strasse"/Köln-Flittard
Collegium Instrumentale
Deutsche Grammophon 459570-2 ADD 74:00
Outrageous! In his Companion to 20th-century Music, Norman Lebrecht expresses himself very well when he writes, "In all of his music, Kagel plays games to which he alone knows the rules." Mauricio Kagel, who was born in Argentina in 1931 and who has spent most of his creative life in Germany, is a composer with an earnest sense of the absurd. The conceptual element in his music is strong. For example, in his work Staatstheater - Opera To End All Operas, the conductor is asked to fake a fatal heart attack.
This sort of game-playing has fallen out of fashion in "serious" classical music, and more's the pity, I say. "1898 (1972-3) and Music for Renaissance Instruments (1965-6) sound proudly dated, and it was a bold move of Deutsche Grammophon to reissue them now in its "20/21" series.
In the former work, Kagel builds an instrumental ensemble such as might have been used for an old acoustic recording circa 1910, perhaps to accompany an opera singer. He carries the concept to its logical extreme by using stringed instruments fitted with the bells of brass instruments. It turns out that similar instruments, called Stroh-violins, were used early in the recording process to amplify the relatively weak tone of the strings. The resulting tone is a curious hybrid - not one nor the other. The number of instruments playing at any given time is indeterminate, but no more than two melodic lines are simultaneously used (although the instrumentalists are free to choose a convenient octave to play their parts in). This means that "1898 is quite harmonically simple, although the doublings in multiple octaves create a "spacey" sound. The instrumental ensemble is complemented by a vocal ensemble consisting of 22 ten to thirteen year-olds, all purposely untrained singers, who comment on the proceedings by means of whistling, trilling, laughter, and wails. Am I alone in hearing "1898 as a rather tragic work, in spite of its absurdist elements? Throughout its 48 minutes, the instrumentalists labor away at an obscure thesis and seem to meet with nothing but opposition from the children. When a pathetic and bare passage for plucked strings is greeted by derisive laughter, one can't help but be chilled. "Write that nothing was achieved" said one of the young participants at the 1973 recording sessions. "1898 was written to celebrate the 75th anniversary of Deutsche Grammophon. So, the old yellow label has a sense of humor after all!
Music for Renaissance Instruments is just that; why shouldn't modern composers write new music for crumhorns and bombards? Kagel was very interested in the timbral properties of these old instruments. As a student, he set out to write a similar work, but discontinued it when he realized that there simply weren't enough instruments and instrumentalists around to realize his intentions. By the middle 1960s, this no longer was a problem. Music for Renaissance Instruments is a full-scale exploration of the tone colors of these instruments, alone and in combination with others (at times many others). These colors are given a prominent place; melody and harmony are less important. Again, an air of fatalism pervades this work. No attempt to write "old" music has been made. In fact, given its stridency, this work evokes no composer more ancient than György Ligeti. I like it, but Music for Renaissance Instruments will clean out your ears. The recording dates from 1967.
Copyright © 1999, Raymond Tuttle