Related Links
Recommended Links

Site News
CD Review
Carlos Kleiber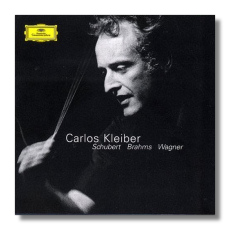 1930-2004 - A Tribute
* Margaret Price (Isolde)
* Wolfgang Hellmich (Steersman)
* Brigitte Fassbaender (Brangane)
* Werner Gotz (Melot)
* Kurt Moll (Marke)
Vienna Philharmonic Orchestra/Carlos Kleiber
* Staatskaplle Dresden/Carlos Kleiber
Deutsche Grammophon 477532-4
I am still trying to figure out all the hype about Kleiber. He made a recording of Beethoven's 5th with the VPO in 1975, which was, I believe, a best seller. I bought a copy of the LP and agreed that it was an awesome recording. According to the review books, the recording (now coupled with the 7th Symphony) has withstood the test of time as one of the greatest. I will have to check and see if it has withstood the test-of-time for me. These recording, however, whilst highly praised by the critics leave me unmoved.
I have had the Brahms in my collection three times now. Twice I have given it away. I'll keep this one just to revisit it from time-to-time and see if my mind has changed. The Vienna Philharmonic plays beautifully and the sound, if a bit dry, is very good. The problem is that the conductor doesn't seem to dig into the music past the notes. It is a very good performance but not equal to several others. At times I begin to wonder if my reaction is just me so I pull out one of my others and check. Specifically I listened to Bruno Walter's Columbia recording. His timings are close to Kleiber's but he is much more emotional. He digs into the music, leans into the phrases. The sound is also better with a deeper, richer bass and reverberation. I also listened to Stokowski's stereo recording and it, too, is more emotional. Perhaps it is that Kleiber is just not as Romantic but Brahms needs be Romantic. After thinking about it for a couple of days I finally found the word that tells what it is that Kleiber lacks: lyricism. Where Walter and Stokowski imbue the work with a lyrical ambience Kleiber just plays the music.
The Schubert "Unfinished" left me equally unmoved and for much the same reasons. (For what it's worth, the movie "Being There" opens to the Schubert 8th.) It sounds rushed but checking timings it is not any faster than Stokowski's recording with the London Symphony in 1969. Both Stokowski and Sinopoli (on DG but may be unavailable) imbue the music with more passion and I like my music passionate.
As for the Wagner, I don't feel competent to pass judgment on it but no one would purchase this disc just for the few Wagner pieces.
The two symphonies on this release received high praise from other critics and perhaps you will agree with them rather than me. I call them as I hear them.
Copyright © 2004, Robert Stumpf II