Related Links
Recommended Links

Site News
CD Review
Grand Prix - American Orchestral Works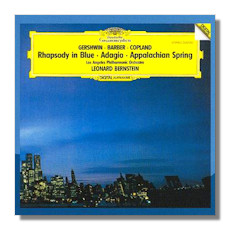 * Leonard Bernstein, piano
Los Angeles Philharmonic Orchestra/Leonard Bernstein
Deutsche Grammophon 4776352 54:10
This review will be very short. This program has been issued and reissued countless times, and there's really no reason to re-master these late 80's takes. So I suppose I like this issue for the smart-looking packaging, as part of the short-lived "Grand Prix" series. Nearly every issue in the series was excellent, and for two thirds of the disc, the current issue is no exception.
To summarize, the Gershwin is lumpy and heavily cut. It is not an improvement over Bernstein's early Columbia reading, which is thrilling and heavily cut. The Barber Adagio was a Bernstein specialty, and this is generally more spacious than his New York version. It is not any less intense. Some may even prefer it. The Copland was also a calling-card of the conductor, and I do prefer this reading in some ways to the earlier one. It's warmer and less pulled about. The Europeans have largely felt this version to be superior.
The Los Angeles players are superb, and play exceptionally well in the Copland especially. The sound is perfectly fine, and if you have Bernstein's earlier recordings, you will probably want these as well. Should you own the original full price issue, or the "Leonard Bernstein Edition" copy, there is no reason to replace either of those, and if you stumble upon his American "Collectors Edition" set, these are the same recordings contained in that box, too. Still, if you somehow haven't spent time with these classic examples of late Bernstein in Americana, grab this!
Copyright © 2014, Brian Wigman