CD Review
Piano Works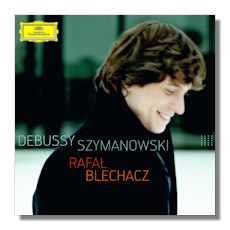 Pour le piano
Estampes
L'Isle joyeuse
Karol Szymanowski:
Prelude & Fugue in C Sharp minor
Sonata in C minor, Op. 8
Rafał Blechacz, piano
Deutsche Grammophon 4779548 DDD
2005 Warsaw Competition winner Rafał Blechacz is mainly thought of as an outstanding interpreter of Chopin and the Viennese Classical School, yet anybody familiar with the concert performances of the young Polish pianist may have noticed his predilection for two other composers: Claude Debussy and Karol Szymanowski. Blechacz' new Deutsche Grammophon CD isn't perhaps so much of a surprise, but with playing of such constant quality, it's no less welcome.
Rafał Blechacz stated in interviews how performing Debussy made him more perceptive to color and shading in his approach of Chopin. His full, intense sonority, his attack devoid of any hardness are just as much as his disciplined dynamics and pedaling, and the ever-prevailing harmonic clarity, a total enchantment in Debussy. Yet, as in his Chopin, it is Blechacz' sensibility which touches our heart. The selection of Pour le piano and Estampes for this album allows him to cover a delectable variety of color and moods. Just listen to the tonal nuances when evoking the Asian percussive instruments in Pagodas; the imagination which vivifies Soirées dans Grenade or indeed the sheer beauty of timbre in L'Isle Joyeuse, the effortless waves of modulation, the crystalline articulation as expression of light and happiness. If anything, Blechacz' color palette has become even more vivid and captivating than when I heard him perform Debussy live two years ago. To enhance our joy, he plays on a ravishing sounding instrument, which is moreover most beautifully recorded by the DG engineers.
Blechacz makes a strong case for the relatively little-known and recorded Karol Szymanowski (1882-1937). The pianist got hooked on the music of his compatriot while still a teenager and obviously has spent a lot of time exploring it. It's telling that he chose two of his earlier works (in fact only marginally posterior to the Debussy pieces featured here), which show the young composer still looking for his own voice. Both the 1st Sonata in C minor (1903-04) and the slightly later Prelude and Fugue in C Sharp minor (1905-09) highlight Szymanowski's fascination with the expressionism of Scriabin, but also his debt to Chopin and classical form.
The Sonata in C minor is quite a hefty, four-movement work, culminating in an extensive fugue. Blechacz, who is about the same age now as when Szymanowski composed it, captures its pristine vitality, curiosity and wit, carrying the promise of future accomplishment, in spades. He clarifies the structure and unravels moments of genuine beauty which lend the work, balancing enigmatically between classicism and modernism, a hitherto unsuspected appeal. The Prelude and Fugue in C Sharp minor with its initially hesitant tonality and chromatism ala Scriabin receives a thoroughly brilliant and convincing performance as well. It's clear that Blechacz knows as no other to share his enthusiasm for this music and if these readings won't have you running to the store to further explore Szymanowski's legacy, nothing ever will. Whether you will find anything that matches the quality of Blechacz' CD, is however another matter.
This is a superb disc and a beautiful addition to the beginning catalogue of this uniquely sensitive artist. Not to be missed.
Copyright © 2012, Marc Haegeman