Related Links
Recommended Links

Site News
CD Review
Joan Tower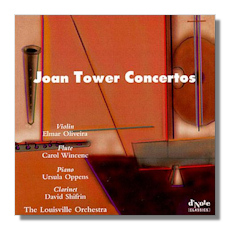 Concertos
Concerto for Violin
Concerto for Flute *
Concerto for Piano
Concerto for Clarinet *
Elmar Oliveira, violin
Carol Wincenc, flute
Ursula Oppens, piano
David Shifrin, clarinet
Louisville Orchestera/Joseph Silverstein
* Louisville Orchestera/Max Bragado
D'Note Classics DND1016
These four concertos are actually one-movement concertinos (none longer than 20 minutes) and to her credit, Joan Tower stretches them to their limits. Composed as tonal pieces, they are so entertaining, they rarely make demands on the listener. They are unabashed crowd-pleasers.
Like Seinfeld's Cosmo Kramer, the Violin Concerto bursts right in without knocking. Its violin is all energy, a solar flare, a Fourth of July firework raining down on the audience. During reflective moments, it is moody, but never disturbing. Similarly, the Flute Concerto quickly breaks free of its vaguely unsettling opening and flashes garish tones, which are shadowed by lurking brass rhythms. The Piano Concerto has an idiosyncratic beginning and reveals abrupt mood changes within its slow passages. There are subtle quotes from Beethoven and Liszt, with some passages reminiscent of Bartók's Piano Concerto #1. Listen closely and you'll even hear lyrical, Keith Jarrett-like jazz riffs.
By the time I heard the Clarinet Concerto, I was dazzled, dilated, and drenched. I love the final cadenza, which is whimsical and marvelously played, and ends melancholically. When I turned off my CD player, I asked myself: what have these pieces given me? Soaring refrains. Jaunty energy. Thick-skinned orchestration. But like short stories with many characters, the themes often get compressed. No dialog lasts for long, no mood is so precious it cannot be displaced by another. These are brash and well-played works, with sound bolts and alarming feats of virtuosity. Listen for the sheer joy of experiencing in-your-face music. But don't expect a ride in Mahler's rueful coach.
Copyright © 1998, Peter Bates