CD Review
Mendelssohn/Schubert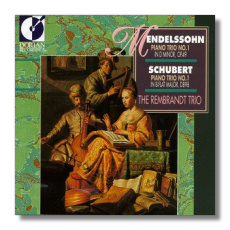 Piano Trios
The Rembrandt Trio
Recorded 3/89 at the Troy Savings Bank Music Hall
Produced by Antonín Kubalek
Dorian Recordings DOR-90130 DDD 70:36
This Dorian release is as precise and beautiful as they come – from the CD booklet with its opulent marbled cover, to the transparently virtuoso playing. The fabled Troy Savings Bank Music Hall is undoubtedly a nice recording venue, but I hope it was not the sole rationale for the founding of Dorian. It would be unfortunate if they were to develop the annoying provincialism of Nimbus. At any rate, the sound here naturalistic and well-balanced. The violin sounds like a violin and not like a supercharged Perlman Strad. This is not a competitive performance.
If any concessions are made to a single instrument, it would be the piano, which is the dynamo that drives Mendelssohn's Op. 49. It's my favorite trio here; I prefer it to the Schubert not because it is intrinsically superior – in fact, the Mendelssohn is less ruminative. It sacrifices the explorative, vertical textures for an exhilarating fleetness; as soon as one melodic line has run out, Mendelssohn is right there with another. It is that tuneful confidence and regenerative sense that appeals to me. The slower movements are amazing too. In the Andante con moto tranquillo the virtuoso piano backs off and enhances the interplay between violin and cello. I noticed here that the cello's pizzicato projected strongly, especially for lower strings. It may be a peculiar feature of the hall.
Schubert introduces his themes gently. They develop politely, taking slow turns on each instrument, as if seeking approval. Schubert's material economy comes close to redundancy. The final rondo, with its fluffy tremolos and trills, is too pregnant with Vienna for my taste. You can appreciate the luscious tone of the Rembrandt in the slower movements, however.
Pianist Valerie Tryon is outstanding. At any hint of laxness in the group, she jumped right at the pulse of the work; her finger work is even and crystal clear. Gerard Kantarjian, violin, is also technically masterful and has a superb tone, but I wanted him to be more emphatic, to try accenting repeated figures (Mendelssohn depends on motoric energy). I should mention the cellist, Coenraad Bloemendal. A beautiful player, perhaps a bit phlegmatic for the Mendelssohn. The Rembrandt Trio doesn't take the music by the throat, it's more of an amorous gaze I think. Nicely done.
Copyright © 1998, Robert J. Sullivan