Related Links
Recommended Links

Site News
CD Review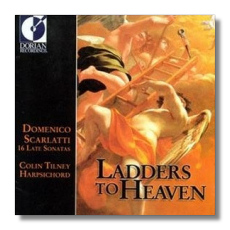 Ladders to Heaven
Sonata K. 406/407
Sonata K. 398/399
Sonata K. 454/455
Sonata K. 443/444
Sonata K. 518/519
Sonata K. 536/537
Sonata K. 538/539
Sonata K. 370/371
Colin Tilney, harpsichord
Dorian DOR-93253 69m
Harpsichord and piano (usually modern concert grand piano) vie for public favour, and there is no cause to minimise the subtlety of colour and articulation that the finest pianists can bring to the appreciation of these imperishable little masterpieces. My favourite on piano is Pletnev (Virgin: 5619612) - at bargain re-issue price irresistible!
For the harpsichord, we owe revaluation of the sonatas to Ralph Kirkpatrick, whom I heard introduced his pairing discoveries and playing them with what was then a surprisingly austere approach - no change of registration for repeats - and I marvelled at how he concentrated our attention upon the wonders of the music, not upon his playing of it.
Colin Tilney, a respected scholar and performer of authentic early keyboard instruments, lived through all this. So here we are offered sixteen late sonatas, in their Kirkpatrick pairs, played on a 1993 instrument based upon 18 C Florentine single-manual models. It was made by John Phillips, harpsichord technician and Dorian's session producer of this recorded collection. He also supplied the notes, with their thoroughly convincing justification of the instrument chosen by Tilney.
Dorian takes their title for the album, Ladders to Heaven, from the inexorably climbing musical line of K418, 'making us wonder if it can really go that high'. The performances, recorded in California over three days in July 2000, when Tilney was around 67, are reliable and persuasive. I am very happy with his intepretations, and the disc is a welcome addition to the very extensive Scarlatti discography.
Copyright © 2003, Peter Grahame Woolf