Related Links
Recommended Links

Site News
CD Review
The Aristocratic Clifford Curzon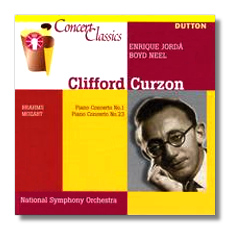 Clifford Curzon, piano
London Symphony Orchestra/Enrique Jorda
* National Symphony Orchestra/Boyd Neel
Dutton Concert Classics CDEA5507 ADD 72m
Listening to the rapt interchange in the Mozart Adagio was one of the supreme moments of pianistic bliss that I have ever experienced. But that it came more often! Alas such genius as Clifford Curzon is now gone but a renaissance of his finer recordings is more than welcome. He recorded this particular work three times and I would say that this earlier effort is the finest.
The astonishing poetry and virtuosity of his playing is spellbinding, once again I would refer listeners to the central passage of the Allegro assai which really shows the depth that Mozart was achieving in his final piano concertos. The Brahms has perhaps been overshadowed by the more famous Szell/LSO partnership in 1962 although it is welcome that this 1945 recording with Enrique Jorda is again available.
The tempi are even faster and the youthful Curzon carries all before him in the grand aristocratic manner. He achieves the impossible in the Maestoso whilst on the other hand the poetry in the Adagio is indeed echt Brahms. Aspiring pianists should hear this disc; it is indeed an object lesson in the art of perfection that is perhaps attainable. Clifford Curzon was maybe the closest one could ever get to pianistic perfection.
Copyright © 1999, Gerald Fenech