DVD Review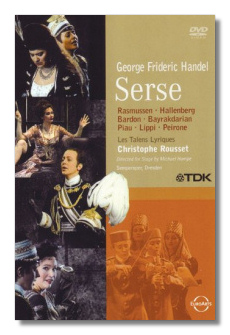 Serse, HWV 40
Paula Rasmussen (Serse)
Ann Hallenberg (Arsamene)
Patricia Bardon (Amastre)
Isabel Bayrakdarian (Romilda)
Sandrine Piau (Atalanta)
Marcello Lippi (Ariodate)
Matteo Peirone (Elviro)
Ludwigshafener Theaterchor
Les Talens Lyriques/Christophe Rousset
EuroArts DVD 2053798 160min LPCM Stereo Dolby Digital
Serse is more than Handel's so-called "Largo," an aria about a tree! It's the typical Baroque tale of misplaced affections. Serse (Xerxes), the King of Persia, is engaged to Amastre, but he really loves Romilda, the daughter of Ariodate, the commander of Serse's army. Romilda is in love with Arsamene, Serse's brother. Arsamene returns her love, but he in turn is loved Atalanta, Romilda's sister. Serse's and Atalanta's jealousy is the wheel on which the plot revolves. Elviro, Arsamene's tippling manservant, provides comic relief. Confused? The role of Serse originally was sung by a castrato. As castrati are in short supply these days, Serse is sung by a woman in this production. Arsamene also is sung by a woman, as Handel apparently intended from the start. Furthermore, Amastre spends most of the opera disguised as a man! Things turn out well for everyone in the end… for everyone, that is, except for the tree, which Serse torches near the end of the opera in a fit of rage. This is one of Handel's London operas, and a late one too; it was premièred in 1738 with little success. Nevertheless, with Giulio Cesare and perhaps Rodelinda, it was one of the few Handel operas not to be neglected in the years between composer's death and the eventual revival of Baroque opera in the century just passed.
This production comes from the Dresden Music Festival of 2000. The stage director is Michael Hampe, who was behind the similarly excellent Schwetzingen Agrippina from 1985, also released on a EuroArts DVD (2054538). Hampe makes no attempt to put a miniature Persia on the stage of Dresden's Semperoper, nor does he imitate what Serse might have looked like in 1738. Instead, this is a fantasy Persia as it might have been imagined by 18th-century Europeans, but as it could have been realized only through modern stagecraft. The costuming is handsome, and the splendid sets are fluid and adaptable. As in his Agrippina, Hampe doesn't shortchange the opera's potential for comedy, but he shows restraint and resists the temptation to yuck it up or make it silly. It's really the best of both worlds.
Hampe has a fine cast to work with. Each of the above-named principals gets his or her moment in the sun. The stand-outs are Isabel Bayrakdarian, a young Canadian soprano of Armenian heritage, and Sandrine Piau. Bayrakdarian has a lovely, limpid voice. Piau's is more penetrating, and she obviously enjoys playing the scheming Atalanta. In the title role, Paula Rasmussen is impressive, but it is my feeling that the microphones are not kind to her voice, giving it an edge I suspect one doesn't hear in the theater. As the fearsome Serse, she slightly resembles – believe it or not – the teenaged Leonardo DiCaprio! Ann Hallenberg's Arsamene is excellently sung. S/he contributes to a chain of exciting arias and ariettas in Act Two; Handel cleverly ramps up the tension with each new number, and one can feel the Dresden audience responding in kind. As Amastre, Patricia Bardon is spectacular in that act's betrayal aria ("Anima infida, tradito io sono"). Matteo Peirone is an audience favorite as the tippling Elviro. Rousset's conducting is red-blooded and stylistically apt, and he draws enthusiastic work from his orchestra, Les Talens Lyriques, and from the Ludwigshafener Theaterchor. The chorus and soloists are a little behind the beat from time to time, but considering the amount of onstage activity Hampe has contrived for them, that comes as no surprise.
The sound (PCM Stereo or Dolby Digital 5.1) is excellent, and so is the picture (4:3 ratio), although the layer-change 76 minutes into the opera is awkwardly handled. The English subtitles are expertly done and unobtrusive.
These 160 minutes flew by. With music and performances as good as these, I hope that Baroque opera has returned for good.
Copyright © 2006, Raymond Tuttle