DVD Review
Lucerne Festival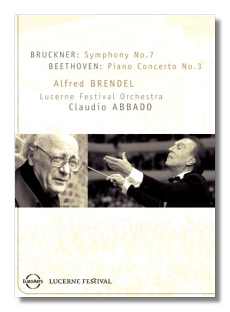 Alfred Brendel, piano
Lucerne Festival Orchestra/Claudio Abbado
EuroArts DVD 2054648 LPCM Stereo Dolby Digital DTS Anamorphic Widescreen

Lucerne Festival Orchestra/Claudio Abbado
EuroArts DVD 2054628 LPCM Stereo Dolby Digital DTS Anamorphic Widescreen
These two recordings derive from the 2005 Lucerne Festival, the Bruckner/Beethoven dating to August 10-12 and the Mahler from concerts held on the 17th and 18th of that same month. The sound and visual aspects on both are excellent, and the audiences are quiet during the performances. You'll note that EuroArts has billed the Bruckner first on the first DVD, making the presentation more about Claudio Abbado than Alfred Brendel.
Abbado is one of our most distinguished conductors and can arguably be ranked alongside the greatest maestros of this or any era. His Bruckner features fairly brisk but judicious tempos, insightful phrasing and an absolutely masterly sense for this epic work's structure. This is not ponderous Bruckner: the music has tension and energy, not just in the Scherzo, but in the first movement and finale. I came to develop great respect for Georg Tintner's Bruckner, and still recommend his complete set of symphonies on Naxos, but this Abbado/Bruckner 7th moves to the top of my list. The playing by the Lucerne Festival Orchestra, I might add, is splendid. This group is comprised of some of the world's finest soloists. At the 2005 concerts it included Sabine Meyer on clarinet, Wolfram Christ on viola, Franz Bartolomey and Natalia Gutman on cello and numerous other well-known artists.
Brendel's Beethoven 3rd is also distinguished, although perhaps just a tad less effective than his previous efforts. By my count he has recorded this concerto three times previously, all as part of cycles of the Beethoven concertos. I sensed a slightly less vital Brendel here, and as I watched him take his bows at the end, he seemed a bit tired. He was seventy-four at the time of this recording, but never faltered, and his playing was infused with insight and his touch was sure. Despite my minor quibbles, this account still must be ranked among his finest efforts, in part because of Abbado's and the orchestra's extraordinary contributions. The pianist's fans especially will want to own this recording. Strongly recommended.
The Mahler 7th is also brilliantly performed here. Abbado seems at home in such a wide range of repertory, including, of course, the symphonies of Mahler. He has received much praise for recordings of several Mahler symphonies with the Berlin Philharmonic on DG, issued just a few years ago. In fact, in 2002 DG released a performance of a live Mahler 7th with the Berlin Philharmonic that drew lavish praise. I haven't heard that recording, but can say this new effort on EuroArts is absolutely fabulous. My previous favorites were the first Bernstein on Columbia, from around 1972, and the Tilson Thomas on RCA, from 1999. I would say this new Abbado displaces those excellent performances. Highly recommended.
Copyright © 2006, Robert Cummings