DVD Review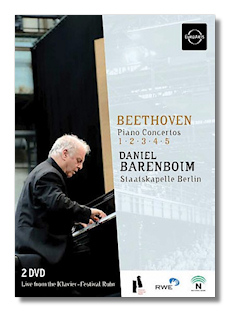 The 5 Piano Concertos
Concerto for Piano #1 in C Major, Op. 15
Concerto for Piano #2 in B Flat Major, Op. 19
Concerto for Piano #3 in C minor, Op. 37
Concerto for Piano #4 in G Major, Op. 58
Concerto for Piano #5 in E Flat Major, Op. 73
Daniel Barenboim, piano
Berlin Staatskapelle Orchestra/Daniel Barenboim
Live at the Ruhr Piano Festival, May 21-23, 2007
EuroArts DVD 2056778 2DVDs LPCM Stereo Dolby DTS Anamorphic Widescreen
The sound reproduction in this set of the five Beethoven concertos is about as vivid and well-balanced as one could imagine. There is truly a sense of being in the concert hall here – the sonics are that good! The video portion is excellently presented as well, giving the viewer a better visual perspective than one would likely get from most vantage points in the concert hall.
The performances? For the most part, they are spirited and full of insights, Barenboim the pianist playing accurately and with a deft sense for each concerto's character, moving from the somewhat Haydnesque persona of the Second (it was really the First) to the youthful but masterly quality of #1 and 3, and finally onto the epic grandeur of #4 and 5. Barenboim the conductor is up to the task as well, leading this talented ensemble with a knowing (and very busy) hand, or, shall I say, hands. The Berlin Staatskapelle, by the way, is the orchestra of the Berlin State Opera, and Barenboim serves that company in the capacity of general music director. He holds the title of chief conductor of the orchestra.
In any event, the performances are splendid because Barenboim always seems to catch the Romanticism, the wit, the grandeur, the nervous drive, and the delicate vestiges of Haydn and Mozart, all in a wide range of dynamics and with all-encompassing technique. And the orchestra appears to know these concertos almost well enough to play them from memory.
Some might think Barenboim treats the Second a little too seriously, missing some of the lightness, but his interpretation works on most levels – and works well. The Fourth and Fifth are certainly fully convincing and probably as effective as any single performance of either on record that comes to mind. The Third may be the best performance. Here's a concerto whose first movement doesn't always come across so well, but Barenboim makes its dour elements more palatable by ratcheting up the sense of drama and mystery: just try the concerto's opening, where the long orchestral introduction heightens your sense of anticipation for the piano's dramatic entrance. The finale benefits too, sounding less hectic than usual and more witty.
All in all, this set is one of the finest videos of piano/orchestral music I've ever encountered. Certainly, it ranks with the finest sets of the Beethoven Five available. Perahia/Haitink was my previous first choice here, but now this one must go to the top of the list, not just because of the performances but because of the utterly spectacular sonics. Highest recommendations!
Copyright © 2008, Robert Cummings