CD Review
Eleni Karaindrou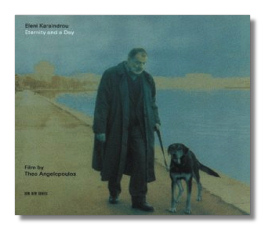 Eternity and a Day
Music for the Film by Theo Angelopoulos
Instrumental ensemble
String Orchestra La Camerata, Athens/Loukas Karytinos
ECM New Series 1692 (465125-2) DDD 46:36
It is always difficult to write about film music without having seen the film. In a perfect world, Angelopoulos's films would screen at our local cineplex. They do not, however, and so we turn detective – in this case, a pleasant enough activity – trying to put together a "truth" from Eleni Karaindrou's score (which is anything but descriptive) and whatever laconic words and images that ECM chooses to share with us.
The Karaindrou and Angelopoulos pairing may be as artistically rewarding as that of Bernard Herrmann and Alfred Hitchcock, or Nino Rota and Federico Fellini. (No similarities between Karaindrou's and Herrmann's or Rota's music are implied.) This is the fourth ECM disc to come from their work together. I've heard Ulysses' Gaze, their most recent collaboration, liked it, and was looking forward to Eternity and a Day when it arrived in the mail a little while ago.
The film is set in the Greek city of Thessalonika. It stars Bruno Ganz (the angel in Wings of Desire), a poet whose hospitalization and death from cancer are imminent. Before entering the hospital, he faces existential issues over his relationship with his estranged family, and with a 9-year-old Albanian refugee boy. Ganz's character resolves to take the boy back to Albania before he becomes prey to life on the streets of Thessalonika. You can't go home again, though. An unforgettable image, reproduced in ECM's booklet, is of a barbed wire fence at the border of Greece and Albania: children hang from it as ghostly and frozen reminders of how often the most innocent and powerless people are the ones who are destroyed first.
Karaindrou's simple score is quiet and eloquent. She uses few raw materials, the most prominent of these being a melancholy, dance-like theme that would not have been out of place in one of Chopin's mazurkas. Through all its repetitions, what gives it life is the varied scoring, which goes from solo piano to string orchestra. (At times, the string orchestra is joined by other instruments: oboe, clarinets, bassoon, French horn, mandolin, and accordion.) Karaindrou's music speaks little but implies much, and the more you hear it, the more it implies: it's like a Persian rug that develops faces if you stare at it for long enough. It gets under your skin and opens up a space that is filled by sadness and silence. The success of this album (and its predecessors) is partly due to ECM producer Manfred Eicher, who adapted Karaindrou's original score to shape this album, which is not an "original soundtrack" in the usual sense of the word. This CD is a true collaboration.
This music is truly haunting, and it will be enjoyed by a diverse group of listeners – everyone from devotees of foreign "art house" films, to those who buy into ECM's artistic philosophies, of which one seems to be that "less is more." Less is a great deal indeed, with Eternity and a Day.
Copyright © 2000, Raymond Tuttle