CD Review
Erkki-Sven Tüür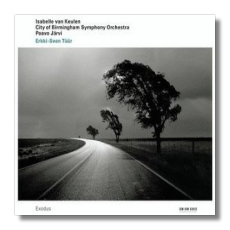 Exodus
Concerto for Violin and Orchestra
Aditus
Exodus
Isabelle van Keulen, violin
City of Birmingham Symphony Orchestra/Paavo Järvi
ECM New Series 1830 DDD 61:09
If Erkki-Sven Tüür's classical music has the insistent drive of rock, it should not be a surprise, as both he and conductor Paavo Järvi (Neeme's son) were progressive rock musicians in their native Estonia when they were younger. Tüür was born in 1959, and two decades later he formed a group called "In Spes," whose influences, according to ECM's material, included Frank Zappa and King Crimson – heady (and heavy) brew, whether or not you care for the prog rock genre.
All three works on this CD have been recorded for the first time, and under the supervision of the composer at sessions that took place in May 2002. The Violin Concerto, composed in 1998, is dedicated to Tüür's father, as a gesture of gratitude. Imagine Arvo Pärt on steroids reinterpreting the more energetic sections of Messiaen's Turangalîla, and you'll have a pretty good idea of what this work sounds like. Although it is in the traditional three movements (each one shorter than its predecessor), it differs greatly from the 19th-century concerto not just in its maximalist and exotic musical language, but also in the collaborative relationship between the soloist and the orchestra. Even in its quietest moments, a restless intelligence is at work in this concerto. The music is nervous and phantasmagoric. The composer uses the word "surrealistic" to describe aspects of the first movement, but really, the entire work could be compared to patterns produced by a kaleidoscope.
Aditus, nine minutes in length, is dedicated to composer Lepo Sumera, Tüür's mentor, who died in 2000. Stylistically, it is quite similar to the concerto. The composer calls it "not so much a lamentation as a celebration." Listening to this work, one realizes that Tüür's apple hasn't fallen so far from Sumera's tree. At the same time, Tüür's obsessive assertiveness (which verges on aggression) really goes several steps beyond Sumera. Darn kids and their rock and roll! (It should be mentioned, however, that Sumera was only nine years Tüür's senior.)
The whopping Exodus (1999) gives this CD its omnibus title. Again, Tüür presents the listener with an energy field so relentless that it seems in danger of bursting the music's confines. The title is an allusion, according to the composer, to the human desire to overcome gravity and to fly. Tüür speaks of "a composer's subjective sound image of a force that can defeat the undefeatable." More than the other two works on this CD, some of Exodus seems merely noisy. It's a sort of "bad boy" work that tests the listener's endurance. In the end, it does pay off, but it is more difficult to stay with this music than with Aditus or the Violin Concerto. It is dedicated to Järvi and the Birmingham orchestra.
One assumes that the performances meet with the composer's approval; they sound fine to me. The engineering is excellent, and the booklet notes are more informative, less "arty" than sometimes is the case with this label. Here's some serious classical music that even your metal-head kids might appreciate!
Copyright © 2003, Gerald Fenech