CD Review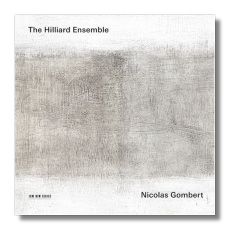 Media in vita in morte sumus
Missa "Media in vita in morte sumus"
Salve Regina
Anima Mea
crux, splendidior cunctis
Quam pulchra es
Musae lovis
Andreas Hirtreiter, tenor
Robert MacDonald, bass
The Hilliard Ensemble
ECM New Series 1884 B0005917-2 DDD 76:00
"In the midst of life, we are in death." That is the cheerful message imparted by Nicolas Gombert's motet of the same name, which opens this (forgive the paradox) luminously dark CD. Gombert also composed a "parody mass" based on this motet. (A "parody mass" has nothing to do with parody as we understand the word today. Instead, it is a mass whose melodic material is derived from another work – sometimes a popular song of the era, and at other times – as in this case – a sacred motet.) Each movement of Gombert's Missa "Media in vita in morte sumus" starts with music already heard in the motet, and Gombert makes passing references to the motet elsewhere in each movement. These references often are well disguised and difficult for the average ear to discern.
Nicolas Gombert's life story has come down to us in bits and pieces. We know that he was born at the very end of the15th century, probably in the southern portion of Flanders. He might have been a pupil of Josquin Des Préz, that giant of the Renaissance who transformed music throughout much of Europe. Gombert appears to have been well-traveled himself. He served in the chapel choir of Charles V in Spain, and when he was about 30 he was given charge of the boys' choir. This must have been his undoing, because in 1540 he was stripped of his position and sent to the galleys for "gross indecency with a choirboy," as Jonathan Wainwright's booklet notes describe it. After serving his sentence, he became canon at the Cathedral of Tournai. He died around 1560.
Most of the music on this disc is for five voices; some is for four and some is for six. Gombert's writing is extremely dense. The parts tightly overlap, and, eschewing rests, are more or less continuous. There's not much "air" in Gombert's music; it never lets up. His music's sonorities might be compared to a cloud filling the entire sky, in which the cloud is not of a uniform color but variously shaded – lighter here and darker there – and always changing. The thickness of Gombert's writing makes it difficult to follow the Latin texts. When the Council of Trent inveighed against polyphonic music for sacred purposes, although the target of their arrows was Palestrina, they might just as well have been speaking of Gombert. However, as with Palestrina, Gombert's music is so intensely spiritual that it silences criticism. We might not remember much of Gombert, nor of the members of the Council of Trent, but Gombert's music remains with us, as tantalizing, challenging, and beautiful as ever.
For variety (I suppose), the Hilliard Ensemble has inserted unrelated motets between several movements of the Mass. I'm not wild about this, but it hasn't bothered me enough to reprogram the order of the CD's tracks. With that caveat out of the way, there's nothing left to do but to praise the singing. Music like this is tremendously difficult to sing because it doesn't fit together in the way that music started to do in the Baroque era. It's often counterintuitive. You can't rely on instinct, you have to count, count, and count some more, and while you're counting, you have many other things to worry about such as pitch, timbre, blend with other parts, and interpretation. The members of the Hilliard Ensemble pass all of these tests, and the outcome is singing which often is heartbreakingly beautiful, and a true gateway back to Gombert's life and times. The recording was made in 2002, in the Propstei St. Gerard in Austria, a frequent venue for recordings on this label. The venue suits the repertoire well. This is a major addition to the sparse Gombert discography.
Copyright © 2005, Raymond Tuttle