Related Links
Recommended Links

Site News
CD Review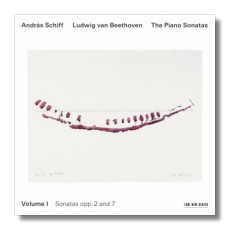 The Piano Sonatas, Volume 1
Sonata for Piano #1 in F minor, Op. 2 #1
Sonata for Piano #2 in A Major, Op. 2 #2
Sonata for Piano #3 in C Major, Op. 2 #3
Sonata for Piano #4 in E Flat Major, Op. 7
András Schiff, piano
ECM New Series 1940/41 DDD 2CDs: 77:32, 30:52
Given Schiff's talents, and his sympathy for the Austrian and German repertoires, it has taken him a surprisingly long time to begin playing and recording the Beethoven piano sonatas. (He turned 50 in 2003.) This is the first volume in a projected series of eight from ECM New Series. The sonatas will be released in chronological order, and all of them were recorded in concert in the Tonhalle in Zürich, Switzerland. The pianist, in an interview printed in the booklet, remarks that playing and hearing the sonatas chronologically "shows the encyclopaedic logic of [Beethoven's] development."
We're off to an excellent start here. Schiff is a thoughtful pianist who doesn't put his fingers down on the keyboard until he knows exactly what he wants to say and how to say it. Rather than emphasizing the young Beethoven's brashness, Schiff plays these sonatas as if they were written by a composer who found poise and maturity early in life - which, in a sense, is true. Schiff doesn't hide or minimize Beethoven's feats of daring - take, for example, the tricky rhythmic dislocations in the first movement of the Op. 7 sonata - but he does integrate them into the music's whole seamlessly. In other words, Beethoven's innovations are the medium for his message, not the message itself. Schiff judges tempos well, is faithful to the score, and is a subtle and patient guide through Beethoven's ever-varied landscapes. If there's little animal excitement per se, and certainly nothing to shock or outrage traditional-minded listeners, Schiff plays with intelligence and flowing logic, and I think that these interpretations will stand the test of time very well, when more extreme performances have begun to lose their excitement.
The extended interview between the pianist and Martin Meyer is valuable in clarifying Schiff's thinking - although one can pretty much tell where he stands on the basis of his playing alone! Meyer also contributes a very intelligent introductory essay to the booklet. The engineering, like Schiff's playing, emphasizes warmth over brilliance. What Schnabel's recordings were to his decade, and Brendel's were to his (more than one decade, really), Schiff's new versions of the Beethoven "32" may well be definitive in the first decade of this new millennium.
Copyright © 2005, Raymond Tuttle