CD Review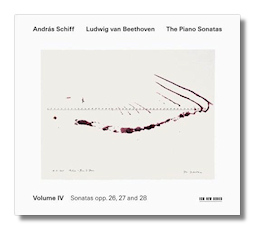 Complete Sonatas, Volume 4
Piano Sonata #12 in A Flat Major, Op. 26
Piano Sonata #13 in E Flat Major, Op. 27 #1
Piano Sonata #14 in C Sharp minor, Op. 27 #2, "Moonlight"
Piano Sonata #15 in D Major, Op. 28, "Pastorale"
András Schiff, piano
ECM New Series 1944 DDD 74:44
With this disc, Schiff reaches the halfway point in his ongoing Beethoven sonata cycle for ECM New Series. The sonatas are being released in chronological order, and all were recorded in concert at the Tonhalle in Zürich. As with the earlier releases, the booklet note reproduces a detailed conversation between the pianist and interviewer Martin Meyer about the individual works.
Volumes 1 through 3 were very satisfying, but I feel that Schiff has reached a high point with the current Volume 4. His manner of playing Beethoven has not changed, however; perhaps he is more sympathetic to these sonatas, which mark (according to Schiff, anyway – the divisions are arbitrary) the end of Beethoven's early period. All four were composed in either 1800 or 1801.
Even more than before, Schiff seems to want to do away with the image of Beethoven as a young upstart, full of rough humor and the desire to turn things on their head. From the very first notes of the Op. 26 sonata, we know that Schiff will emphasize refinement and maturity in these works. That's not to say that Schiff plays this music aristocratically, as if he were Artur Rubinstein. Beethoven always must speak to the common man. It's just that Schiff, whose ability to create tonal color and beauty on this CD is most impressive, appreciates the humanistic nobility of Beethoven's self-expression.
Although one repeatedly thinks to oneself that Schiff's creates a gorgeous sound in these sonatas, there's not a lot of sentimentality here, and that's all for the best too. For example, in the opening movement of the "Moonlight" Sonata, Schiff requires only 4:28. In contrast, Wilhelm Backhaus (in his stereo recording for Decca) takes 5:42 over this movement, and Brendel (in his first Philips recording) and Wilhelm Kempff (in his stereo recording for DG) take a few seconds over six minutes. In no way does Schiff sound rushed, however. The music really flows here. In Schiff's own words, "It could be useful to think more of a Bach prelude than a picture of nature by Liszt." Schiff shows us how enjoyable Beethoven can be when the head and the heart are engaged to the same degree.
Although this is a concert recording, there are no audible contributions from the audience. Engineer (or "Tonmeister") Stephan Schellmann has successfully captured the sound of Schiff's piano and the space in which it is played; the engineering is both detailed and dramatic in its realism.
This is a distinguished recording, about which I have no reservations at all.
Copyright © 2007, Raymond Tuttle