CD Review
Complete Recordings on EMI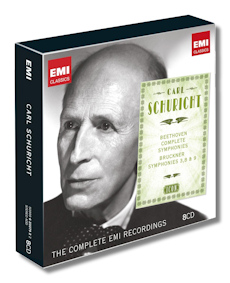 Symphony #1 in C Major, Op. 21
Symphony #2 in D Major, Op. 36
Symphony #3 in E Flat Major "Eroica", Op. 55
Symphony #4 in B Flat Major, Op. 60
Symphony #5 in C minor, Op. 67
Symphony #6 in F Major "Pastoral", Op. 68
Symphony #7 in A Major, Op. 92
Symphony #8 in F Major, Op. 93
Symphony #9 in D minor "Choral", Op. 125 *
Anton Bruckner: **
Symphony #3 in D minor
Symphony #8 in C minor
Symphony #9 in D minor
* Wilma Lipp, soprano
* Marga Hőffgan, contralto
* Murray Dickle, tenor
* Gottlob Frick, baritone
* Elisabeth Brasseur Choir
L'Orchestre de la Société des Concerts du Conservatoire/Carl Schuricht
** Vienna Philharmonic Orchestra/Carl Schuricht
EMI/Warner Icon 623379-2 8CDs Stereo/Mono
I don't think anyone could have guessed that, when EMI folded into Warner Classics, it would go out by giving collectors some of the most interesting and long-unobtainable box sets ever. Okay, so not every single set is a gem, but so many of these Icon boxes shed new light on great artists that it's hard not to thank whoever is making sure they keep coming out. And Warner has continued the trend admirably, proving to be unusually fine stewards of the EMI back catalog. Does anyone even remember Carl Schuricht? How about L'Orchestre de la Société des Concerts du Conservatoire? Sarcasm aside, both conductor and orchestra hold fond memories for collectors old and new, but how many of us remember these artists for Beethoven?
The orchestra was founded with the goal of bringing Beethoven to Paris, and since the French were fiercely isolationist when it came to musical style, these late-50s recordings capture that unbroken tradition in full glory. I agree wholeheartedly with other reviewers, including somewhat prickly (but always amusing) writer and critic David Hurwitz, who calls these performances "remarkable". Amazon's famously divisive crowd also seems impressed, and with so many positive remarks, the only question is: "Why has it taken almost 30 years for a CD issue of this cycle?" Of course, people were asking the same question about Eugen Jochum's London Symphony Orchestra set, and the Icon series took care of that, too. What makes these recordings so special is their personality. The tangy French winds and brass are here allied with a profoundly musical approach. There is a clarity (both in the playing and the sound) which astounds given the 1950's vintage. The playing isn't perfect; intonation is somewhat sour, and the strings lack the weight we associate with this music. But the stereo Ninth (#1-8 are monaural) is amazing, and topped off by some wonderfully French-style choral singing. Tempos would have been considered quick; it's a great precursor to the HIP movement, and far more alluring overall.
The booklet points out that this cycle was overshadowed by cycles of the same time period. Not only was the orchestra French, but it was already battling Karajan's excellent Philharmonia cycle (monophonic) and Leibowitz (early stereo). And then came the explosion Bernstein in New York, Karajan in Berlin, Krips on…every label, seemingly, and the list goes on. Schuricht never stood a chance, and so the cycle rotted at EMI for over 50 years. Shamefully, too; aside from the unique Ninth, there are many other highlights. There's the sharply-etched Seventh, the intense and never muddy Fifth, and crisp and clear "Eroica". All the "lighter" works are played with total commitment. In the Sixth, tonal beauty is lacking, but everything is so natural, so, er,…pastoral, that you can't help but smile. And that's the bottom line. Even if you don't warm to the singing – Beethoven meets La Marseillaise – or you occasionally cringe at the strings, there is so much to learn, to legitimately enjoy here. Having spent the last few days with this set, I can safely say that I have enjoyed it more than any other I have heard in years, in part because the imperfections (to me) reflect the meaning and humanity in this music.
The Bruckner performances actually help to illustrate what I mean. The Vienna Philharmonic in the 1960's was a beautifully blended band, not yet at their 1970's peak. Despite this, no one will question their tonal superiority to the French orchestra in the Beethoven. But – and this is crucial – I don't believe anyone will question that the French players bring more style and individuality to their recordings than the Viennese. Now, I understand that of its type, the Vienna Philharmonic Orchestra has one of the greatest sounds in the world. I also understand that Beethoven is not Bruckner; they require different approaches. Still, the meticulous blend and homogeneity is arguably less interesting here than what's been previously heard.
Even if you completely disagree with the above paragraph, please know that I find these to be excellent performances as well. Never before released together, these swift, unfailingly cogent readings really do show what a conductor like Schuricht could do with a truly great ensemble. The warmly rounded brass – aided by very fine sound reproduction – is only occasionally strained, and the strings attack their parts with relish. The Eighth and Ninth are Vienna specialties, but the quicker tempos and emphasis on transparency (in French style, I might add) really do make these three symphonies sound quite special. If you care at all about Beethoven and Bruckner, you need both this box and Jochum's box within the same series. That box, with it's more traditional approach to Beethoven and Bruckner, serves as the perfect complement to this truly eye-opening collection. If you don't think you can handle mono sonics, or French playing, I urge you to start here.
Copyright © 2015, Brian Wigman