DVD Review
Ivry Gitlis Plays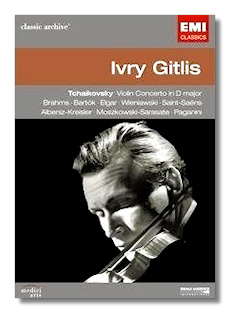 Piotr Ilyitch Tchaikovsky: Violin Concerto in D Major, Op. 35 1
Johannes Brahms: Violin Sonata #3 in D minor, Op. 108 (1st movement) 2
Béla Bartók: Sonata for Solo Violin, Sz117 (3rd movement) 2
Edward Elgar: La Capricieuse, Op. 17 2
Henryk Wieniawski:
Polonaise Brillante in D Major, Op. 4 2
Capriccio-Valse in E Major, Op. 7 2
Camille Saint-Saëns: Introduction et Rondo capriccioso, Op. 28 3
Moritz Moszkowski (arr. Sarasate): Guitarre, Op. 45 #2 3
Isaac Albéniz: Malagueña, Op. 165 #3 3 (arr. Kreisler)
Niccolò Paganini: Violin Concerto #2 in B minor, Op. 7 (3rd movement) 4
Ivry Gitlis, violin
1 Orchestre National de l'ORTF/Francesco Mander
2 Tasso Janopoulo, piano
3 Georges Pludermacher, piano
4 Warsaw National Philharmonic Orchestra/Stanis»aw Wislocki
EMI Classics DVD DVB38846994 75:22 Full Screen LPCM Mono
It usually takes about ten seconds to identify Ivry Gitlis' playing. No offense intended, but he is perhaps one of the most "anti-Classical" violinists, or the one whom you would least like to hear playing the Bach solo partitas. His free-wheeling approach to vibrato and intonation are not what wins praise in conservatories and awards at competitions these days. Often, it is said that Gitlis sounds like a gypsy violinist. There's nothing wrong with that, though, at least in certain repertoire. Gitlis takes us back to a time when classical music and musicianship were a little more wild and unpredictable than they are today.
Gitlis was born in 1922 in Haifa, and was trained largely in France (with Thibaud and Enescu, among others), which is where he still lives today. In the 1950s and 1960s, he made several LPs for Vox Records, and these remain in the CD catalogue even now. In 1968, he was a part of the so-called "Dirty Mac" project, and found himself jamming to a song called "Whole Lotta Yoko" (a reference to John Lennon's wife, Yoko Ono) with the likes of Lennon, Keith Richards, Eric Clapton, and Mitch Mitchell. Gitlis is a man with a strong physical presence. In the mid-1970s, director François Truffaut gave him the small but important role of a magician in his film The Story of Adele H.
The Tchaikovsky concerto, filmed live in 1965, is typical Gitlis in that it is both weird and wonderful. The performance gallops along impetuously, with plenty of artistic scooping, sliding, and scratching from the violinist. Subtle it's not, nor is it an admirable display of disciplined technique, but Gitlis, by eschewing Romantic politeness, finds a rare note of exoticism, even savagery in the concerto. The Brahms, Bartók, Elgar, Wieniawski (the Polonaise Brillante) are taken from a French television program dating from 1962. Here, as in the Tchaikovsky, one can see that Gitlis moves around very little as he plays, and his range of facial expressions contains nothing more extreme than a contented smile. With playing such as his, one expects him to throw himself around and grimace, yet his physical presentation is far more reserved than his playing. The remainder of the program is comprised of a little bit of this and a little bit of that, recorded between 1966 and 1974, all played more or less in Gitlis's signature style. The Bartók has an unearthly beauty here, and I wish the entire Sonata had been performed.
I found it a bit irritating that one can't play this DVD all the way through; one has to press "Play" several times to get through the various parts of the program. Another technical consideration is the sound. There are issues with flutter in the source material, and sometimes it is hard to tell where Gitlis's vibrato ends and the ravages of time begin! The black-and-white footage is dated too, but the pleasure of Gitlis's music-making outweighs this consideration as well.
Copyright © 2007, Raymond Tuttle