Related Links
Recommended Links

Site News
CD Review
Awadagin Pratt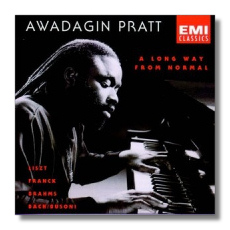 A Long Way From Normal
Awadagin Pratt, piano
EMI Classics 55025 Time: 66:40 DDD
A Long Way from Normal, the title of Naumburg Prize winner Awadagin Pratt's debut recital, resonates with the prospect of "weird." While the fact that he hails from Normal, Illinois justifies the pun (at least superficially), it is his outward appearance that is the source of the buzz: pictured at the piano is a sensitive looking African-American man with long dread locks. Fortunately, beneath the marketing veneer is a pianist worth hearing.
This is weighty music for a debut, but as Pratt launches into the Funerailles, the stark lamentation for those killed in the Hungarian Revolution of 1948-49, it's apparent that he's a gifted communicator. The processional is delivered at a half-whisper with a real awareness of each sound. He's not afraid to sound notes out of unison to conjure interesting colors. Rhythms, also, are pulled in subtle ways - the funeral "swings" in places.
Pratt's improvisational bent is further expressed in the Chaconne. He makes the changing textures and moods cohere in a way that almost dispels the glaring artifice of Busoni's transcription. That's pretty much his approach everywhere; no razzle-dazzle technique, but a passionate involvement in the chorale-like qualities of the music. Very good sound.
Copyright © 1997, Robert J. Sullivan