Related Links
Recommended Links

Site News
CD Review
Serge Prokofieff & Béla Bartók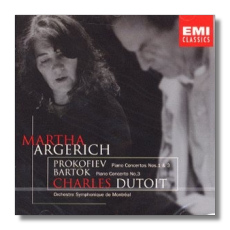 Piano Concertos
Martha Argerich, piano
Montréal Symphony Orchestra/Charles Dutoit
EMI Classics CDC 56654 70:12 DDD
Prokofieff wrote the First Concerto as his conservatory graduation piece; the musical establishment hated it, but there were enough astute music lovers among the faculty to award him his degree and the Rubinstein prize for best composition. The Third Concerto is Prokofieff's best known concert piece, combining the best of his demonic instrumental technique with his superb gifts for orchestration and melody. The Bartók Third makes an austere and menacing intermezzo.
Argerich is spectacular throughout, tearing panther-like into the angular structures of the Prokofieff and then carrying the epic surges with a huge sonority. The closing movements of the Prokofieff concertos are shot through with adrenaline.
Charles Dutoit leads the wonderfully expressive Montréal Symphony Orchestra. His ear for the acerbic textures of Bartók and Prokofieff and his sympathy with Argerich imparts terrific nervous energy to the whole affair. This is a tremendous release that is certain to garner accolades wherever it is heard.
Copyright © 1998, Robert J. Sullivan