CD Review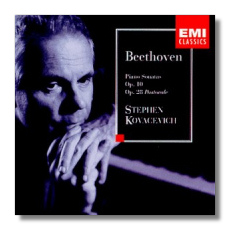 Piano Sonatas
Piano Sonata #5 in C minor, Op. 10/1 (1797)
Piano Sonata #6 in F Major, Op. 10/2 (1797)
Piano Sonata #7 in D Major, Op. 10/3 (1798)
Piano Sonata #15 "Pastoral" in D Major, Op. 28 (1801)
Stephen Kovacevich, piano
EMI Classics CDC 56761 DDD 71:56
When Stephen Kovacevich made recordings for Philips Classics, he fell short of completing a Beethoven sonata cycle; here's hoping that EMI Classics gets it all on disc this time around. For me, Kovacevich is something of a surprise. I knew that he was a well-regarded pianist, but he has not enjoyed the press coverage or the popularity of contemporaries such as Murray Perahia. It is only in the past year that I have made an effort to acquaint myself with his recordings, and I have yet to be disappointed. A Beethoven specialist, he nevertheless excels in much of the repertoire.
These recordings were made in 1998 in London's Air Studios, using the "Royal Festival Hall's Steinway piano, supplied courtesy of the South Bank Center." The sound could scarcely be better. It is warm and defined, and its brilliance never turns hard. (Apparently some of the earlier issues in this series were not so lucky.) The pianist seems to be in the same room as the listener, but the effect is not oppressive, and it is very easy to become involved with the music simply as a sound experience.
Many pianists have recorded the Op. 10 sonatas (#5-7) as a set, and so Kovacevich is in good company here. He responds readily to the quirkiness and volatility of these relatively early sonatas. Many of Beethoven's character traits come together in these works: a desire to please and impress the nobility that is mingled with a need to assert his own individuality, a rough humor contrasted with a courtly charm, epic struggle, romantic passion, and a philosophical breadth. Kovacevich balances these traits perfectly, reminding us that Beethoven, both as an individual and as a composer, was full of internal contradictions. The "Pastoral" Sonata (so named, supposedly, because of the bagpipe-like bass notes that dominate the fourth movement's main theme) is not particularly rural or bucolic, and Kovacevich's reading is even more pointed than usual. Here, as well as in the Op. 10 sonatas, he does not hesitate to bring out the music's dark colors, but he can just as easily sweep them away in favor of a more light, even euphoric mood. His cello-like tone is a special delight on this recording, but he also colors his tone with a brightness that is assertive without turning aggressive.
At the century's end, Kovacevich seems quietly destined to be one of the 21st century's great pianists. His curiosity and scope seem almost without limit; supposedly he is eyeing the Rachmaninoff concertos. In the meantime, his Beethoven sonatas are powerfully satisfying, and this recording is an excellent place to begin exploring the many gifts that he has to offer.
Copyright © 1999, Raymond Tuttle