CD Review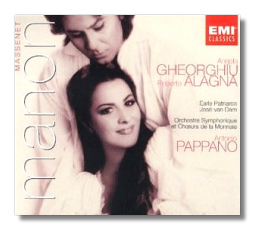 Manon
Angela Gheorghiu (Manon)
Roberto Alagna (Des Grieux)
Earle Patriarco (Lescaut)
José van Dam (Comte des Grieux)
Gilles Ragon (Guillot)
Nicolas Rivenq (de Brétigny)
Symphony Orchestra and Choruses of the Monnaie/Antonio Pappano
EMI Classics 5 57005 2 DDD 3CDs: 67:45, 55:05, 40:16
It seems that all the best modern recordings of Manon, if they didn't start out on the EMI Classics label, they eventually found their way there. The Monteux recording, with Victoria de los Angeles in the title role, is scandalously out of print, but after starting its life on RCA Victor LPs, it was reissued on Seraphim LPs, and then on EMI Classics CDs. Well more than a decade later, Beverly Sills preserved her winning interpretation of the title role for ABC Records; this set also was released on EMI Classics CDs, and was still available, when I last checked. The first digital version featured Ileana Cotrubas and Alfredo Kraus, and now we have the last Manon of the 21st century.
For those who are not afflicted with an excess of nostalgia, this new Manon might be the only one they ever need. It is superbly conducted by Pappano, and it is very strongly cast. The centers of attention, of course, are the husband and wife pair of Gheorghiu and Alagna. Their real-life relationship can hardly fail to add a degree of intensity to their scenes together, and indeed, the first meeting of Manon and des Grieux and the reconciliation scene in Saint-Sulpice are terribly moving because they seem so real. Hearing Gheorghiu's "N'est-ce plus ma main," one thinks that operatic singing doesn't get much sexier than this, and she is chillingly avid for gold in the gambling scene. With this release, and with her recent Verdi CD for Decca, Gheorghiu has set the standard for today's lyric-dramatic sopranos. Who can match the silvery brilliance of her high notes, her vocal colorings, and her dramatic savvy? Only Renée Fleming has a chance of recording a Manon as impressive as Gheorghiu's; we will wait and see. Alagna's biggest advantage is his native understanding of the French language; his is the most idiomatic performance since Henri Legay's on the Monteux recording. (Alfredo Kraus was really too old by the time he made his commercial recording of the role.) Alagna strains in "Ah! fuyez," but most of his singing is lovely, and his crooning head tone – perhaps overused – is both gorgeous and appropriate for this opera.
The rest of the cast is good too. José van Dam's veteran Comte des Grieux (repeated from EMI's previous recording) has paternal authority, and as Manon's cousin, Earle Patriarco successfully portrays an uncouth lout whose veneer of good manners hides nothing of his mercenary nature. Gilles Ragon, an Early Music specialist, is a good Guillot, and Nicolas Rivencq does what he can with the thankless role of de Brétigny.
Manon requires a conductor who is not ashamed of the work's messy emotions. Rather than assuming that Manon conducts itself, Pappano takes the time to invest even the most casual moments of Massenet's score with true feeling. His direction sparkles, but it is also is melting and mellow; he adds a dash of Italianate passion to the French ragout. The orchestra and choirs are well prepared.
The 300-page booklet contains the French text with German and English translations. There's also a three-language synopsis, and a good essay by Rodney Miles. EMI's recording, taped in Brussels during the spring of 1999 benefits from Abbey Road technology.
Copyright © 2001, Raymond Tuttle