Related Links
Recommended Links

Site News
CD Review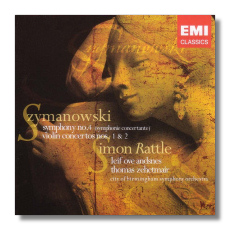 Symphony #4 'Symphonie concertante', Op. 60
Violin Concerto #1, Op. 35
Violin Concerto #2, Op. 61
Leif Ove Andsnes, piano
Thomas Zehetmair, violin
City of Birmingham Symphony Orchestra/Simon Rattle
EMI 557777-2 71m DDD
Inexplicably, these recordings are almost a decade old and they are making their first appearance in what are highly recommendable performances by the versatile Rattle and his young soloists. The Fourth Symphony is a piano concerto all but in name and it contains some of Szymanowski's finest music whilst the Violin Concertos date from an earlier period in the composer's work.
As we read in Malcolm Macdonald's excellent notes, the First Violin Concerto is replete with Asian influences and other Oriental sounds. Zehetmair plays with fine technical capacity especially in the mystical Andante molto sostenuto and the work comes across as being highly virtuosic, very much in keeping with Rattle's tempi and direction.
The Op. 61 is closer to the Fourth Symphony in style and here there is a sense of heady intoxication and impressionistic beauty in Zehetmair's playing. The rather close Symphony Hall recording does occasionally sound a bit too bright but the masterful direction of Simon Rattle is indeed something to savour.
I enjoyed the 'Symphonie concertante' although in occasions, I did feel that Rattle was slightly lost in his quest for detail, perhaps caught in the webs and strands of this highly complex work! Still this is a masterful performance by Andsnes who rises to the occasion quite wonderfully.
As comparisons go, I still retain my LP set of the complete Szymanowski's orchestral works under Semkow, Wit and Kapcyzsk (also on EMI). The former conducts a scathingly biting account of the 4th Symphony and this must take the cake for authenticity. However, this disc is well recorded and contains committed performances that deserve the widest possible currency.
Copyright © 2004, Gerald Fenech