CD Review
Great Recordings of the Century
Brigg Fair – An English Rhapsody
Dance Rhapsody #2
Two Pieces for Small Orchestra
I: On Hearing the First Cuckoo in Spring
II: Summer Night on the River
A Song Before Sunrise
Intermezzo (Fennimore and Gerda) [arr. Fenby]
Irmelin Prélude
Sleighride
Summer Evening [ed. And arr. Beecham]
Florida Suite [rev. And ed. Beecham] I: Daybreak – Dance
Royal Philharmonic Orchestra/Thomas Beecham
EMI 67553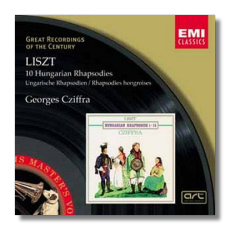 Hungarian Rhapsodies #2, 6, 8, 9, 10, 11, 12, 13, 14, and 15
Georges (György) Cziffra, piano
EMI Classics 67555 ADD 75:57

Lieder eines fahrenden Gesellen
Kindertotenlieder
Des Knaben Wunderhorn: 5 songs
5 Rückertlieder
Dietrich Fischer-Dieskau, baritone
Daniel Barenboim, piano
Philharmonia Orchestra/Wilhelm Furtwängler
Berlin Philharmonic Orchestra/Rudolf Kempe
EMI Classics 67557 2 partly monaural ADD 76:55
EMI Classics' "Great Recordings of the Century" series (one now must ask, "Which century?") continues to grow. These three new discs are typical of what has come before: classic performances (I define a "classic" as something that speaks to more than one generation), refurbished sound, and stylish packaging that fondly recalls the LP format and the ever adorable angel logo.
"Whatever should I do without Beecham?", Frederick Delius was fond of exclaiming. Sir Thomas Beecham premièred probably more of the English composer's works than any other conductor, and Beecham's advocacy lasted throughout his career. Beecham recorded Delius's music as far back as the 1920s. Fortunately, he lived long enough to redo most of the works in stereo. The first of these three CDs contains a selection of Beecham's 1956-57 Delius recordings. I had hoped that EMI would reissue all of Beecham's stereo Delius (the 1987 reissue was an early digital remastering), and I was disappointed to see that this single CD - the 1987 reissue was a two-CD set - omits several items. (Important gaps include Over the Hills and Far Away and Songs of Sunset). The present CD contains only the first section of the Florida Suite, so it appears likely that EMI has no further plans to reissue more of Delius's Beecham in the Great Recordings of the Century series. Too bad.
On the other hand, if someone is looking for an inexpensive introduction to a composer whose music still has the reputation of being elusive, this CD might be just the thing. These new remasterings make Beecham's performances sound more rapturous than ever. This music captured his soul, and his performances capture ours with magic. Other conductors since Beecham have taken a more detailed approach to Delius; Beecham, while hardly desultory, favors an impressionistic "wash of sound." In short, if you wish to study Delius, more recent recordings might be preferable. If you wish to love Delius, however, these Beecham recordings are the ones to get.
Hungarian pianist György Cziffra was a controversial figure in 1950s, 60s, and 70s. Critics found his self-consciously virtuosic playing tasteless. Although they could hardly fault his fingers, what he did with them was another thing altogether. Cziffra's liberties with the score, and his distortions of rhythm, tempo, dynamics, and phrasing went strongly against the grain for purists. Others, such as French organist and composer Marcel Dupré, called Cziffra the reincarnation of Franz Liszt. His literally sensational performances rekindled the Romantic era, at least for moments at a time.
His recordings of the basic repertoire, both solo works and concertos, polarized record-buyers. Probably the best match of pianist and music was in Cziffra's recordings of Liszt's Hungarian Rhapsodies. Ten are presented on this CD; the recordings were made in Paris between 1972 and 1975. The pianist, still in his fifties, was in peak form, and he performs jaw-dropping technical feats here. A good example comes at the very beginning, with the Hungarian Rhapsody #2. In the cadenzas, Cziffra rips out the single note runs with a rapidity usually reserved for piano roll "performances." In the quick friska section of the same rhapsody, Cziffra bangs out chords like cannon blasts, hands leaping from one section of the keyboard to another like a crazed soldier left alone to defend his fortress. It would be wrong to say that his transitions between different tempos and dynamic levels are clumsy, because it is his obvious intention to jolt the listener with sudden contrasts. Jolt he does, and the results, while appalling to some and appealing to others, are never dull. The engineering is dry - all the better to hear what Cziffra is up to!
In 1952, when he recorded the Lieder eines fahrenden Gesellen with Wilhelm Furtwängler and the Philharmonia, Dietrich Fischer-Dieskau was only in his twenties - a perfect age for Mahler's self-pitying, lovelorn hero. Vocally, the baritone has riches to squander in this recording, and his identification with the music and the text is total. When he sings that he has a gleaming knife in his breast, we feel (with him) that this is almost literally so. I don't always like the later Fischer-Dieskau's singing - he can be a oppressive figure - but here he is perfection. Each song is a music drama in miniature. Furtwängler, here near the very end of his career, conducts Mahler's score flexibly. He is not as memorable as his soloist is, however. An optimum match is that of the baritone with Rudolf Kempe in the Kindertotenlieder, recorded three years later. Oddly, Kempe is supposed to have had an equivocal relationship with the Berlin Philharmonic at that time, and Fischer-Dieskau himself recounts Kempe's dissatisfaction at the recording rehearsals. Regardless, everything came together for the sessions themselves. The Berlin Philharmonic's playing is unbearably poignant, and this is fully matched by the singer. Restrained, and at times even stoic, Fischer-Dieskau nevertheless brings a lump to the throat through shading, suggestion, and sheer beauty of tone.
I first became acquainted with these two recordings when they were on opposite sides of a Seraphim LP. For this CD reissue, EMI Classics has added weight by supplementing these monaural recordings with stereo ones made more than twenty years later (in 1978) with pianist Daniel Barenboim. Fischer-Dieskau's voice is barely less splendid in the Wunderhorn and Rückert songs than it was in 1952-55. Barenboim, however, is hit-or-miss. Sometimes, as in "Ich bin der Welt abhanden gekommen," he and Fischer-Dieskau are in emotional sync, and the results are unforgettable. Elsewhere, Barenboim brings nothing special to the music and is rather dull. Worse, the 1978 engineering is a disaster compared to what EMI's engineers did in the 1950s. Climaxes are harsh, and the piano tone is hard. This is not one of the "Great Recordings of the Century." Nevertheless, the first half of this CD redeems the second. German texts and English translations are provided.
Copyright © 2001, Raymond Tuttle