Related Links
Recommended Links

Site News
CD Review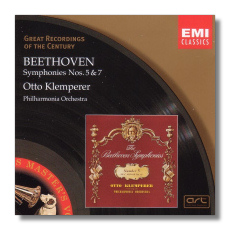 Symphony #5 in C minor, Op. 67
Symphony #7 in A Major, Op. 92 *
Philharmonia Orchestra/Otto Klemperer
EMI 67851 74m ADD Rec 1955 Mono/Stereo*
Shortly after releasing the earlier mono 'Eroica', EMI has now completed reissues of the early Beethoven recordings of Klemperer's heyday with the coupling of the Fifth and Seventh symphonies, long awaited by seasoned collectors.
There is little to add to the praise heaped on these classic readings over the years, and this listener at least was completely bowled over by the pacing and tautness of the symphonic structures. The Fifth has a particularly awesome sense of tension when affronted by the final movement; the transition from Scherzo to Finale is absolutely overwhelming in its tension laden intensity.
The Seventh is cheerful but also very soul searching and introspective with an Allegretto that almost pictures a Kaulbach landscape in the vestiges of autumn. As such, it is hors concurs on all counts especially in the lovely Finale that has a positive leap to it with the strings on quite magnificent form.
Both versions easily supplant the stereo remakes of 1960, when by that time Klemperer's vision of the works had slowed down considerably. This reissue sticks to the stereo tapes of the Seventh which still retain a considerable amount of background hiss but overall, this is indeed a coupling that all Beethovenian and music lovers should cherish as true treasure.
Copyright © 2002, Gerald Fenech