CD Review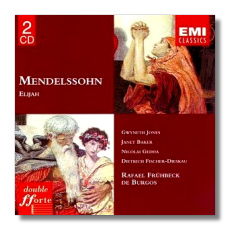 Elijah
Gwyneth Jones, soprano
Janet Baker, contralto
Nicolai Gedda, tenor
Dietrich Fischer-Dieskau, baritone
Wandsworth School Boys' Choir
New Philharmonia Orchestra & Chorus/Rafael Frühbeck de Burgos
EMI 68601 2CDs 139:34 Recorded in 1963
Mendelssohn was already working on Elijah when he was asked to conduct the Birmingham 1846 Summer Festival and, if possible, to bring along a new oratorio. Completed after some disagreement with the librettist (his friend Pastor Julius Schubring, who wanted to "keep down the dramatic, and raise the sacred element"), the work was translated into English by William Bartholomew for its première. Victorian English audiences wallowed in its pious sentiments and it immediately became hugely popular, a staple of choral societies second only to Handel's Messiah, though its original version never achieved the same success in Germany.
Mendelssohn said he "imagined Elijah as a real prophet through and through, of the kind we could really do with today: strong, zealous and, yes, even bad-tempered. Angry and brooding – in contrast to the riff-raff, whether of the court or of the people, and indeed in contrast to almost the whole world – and yet borne aloft as if on angel's wings." This is most apparent in the drama of Part I, in which the prophet successfully elicits Jehovah's aid to defeat the worshipers of Baal and end the drought; Part II, dealing with his indictment, escape, and ascension, is somewhat anticlimactic, but it is still effective. We no longer look to this kind of music for moral uplift, and the piece does contain some dull patches, but as a whole it remains richly satisfying, with wonderful choruses, beautiful arias, and a strong dramatic thrust.
For a long time Elijah was poorly represented on disc, but in recent years there has been a spate of recordings of both the English and the German versions. Even so, the reappearance on CDs of this 1963 performance is very welcome. Though Frühbeck is certainly well-known, it seems to me that he is somewhat under-rated, perhaps because he has never had a permanent post leading a major orchestra. I have never heard a recording of his that I did not enjoy – something I cannot say for many others – and this one is no exception. He approaches the music warmly and expansively (Kurt Mazur's recent recording is a full half-hour shorter!), shaping phrases lovingly and building to splendid climaxes, and his soloists and chorus are superb. Fischer-Dieskau dominates the whole affair, singing with resonant authority; Nicolai Gedda as Obadiah and Janet Baker as the gentle Angel and the angry Queen are in wonderful voice; and Gwyneth Jones, while tending to squawk a little, is more than adequate as the Widow and an Angel. The chorus is splendid in its diction and sonority, and the orchestra provides first-rate accompaniment throughout.
There are some who insist that the work sounds better and is more authentically performed in German, but I disagree. Bartholomew's translation, based largely on the King James Bible and supervised by the composer, works very well, and it is, after all, the form in which the piece was first heard. Other English language versions, led by Hickox (Chandos), Marriner (Philips), and Shaw (Telarc) aren't bad, but this one seems to me the most consistently effective. Among the German versions, Sawallisch's (with Theo Adam, Elly Ameling, and Peter Schreier; Philips) is probably the most convincing. But I heartily recommend this one; all I find to complain about is that the program notes are skimpy and do not provide the text. In EMI's low-priced "double fforte" series, it is an especially good buy.
Copyright © 1999, Alexander J. Morin