CD Review
Great Conductors of the 20th Century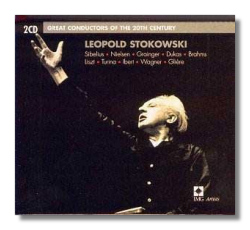 Leopold Stokowski
3 Percy Grainger, piano
1 National Philharmonic Orchestra
2 Danish State Radio Symphony Orchestra
3 Stokowski Symphony Orchestra
4 Members of the NBC Symphony Orchestra
5 Orchestre National de la Radiodiffusion Française
6 Philadelphia Orchestra
EMI 75480 2CDs
Since many readers may already have the major items in this list, the question is: does it sound better and if so enough to justify the investment? In a word: yes!
The notes about the recordings state they are "using the latest remastering technology". Ed Johnson (leading Stokowski expert) told me that EMI borrowed his CD copy of Sony's Sibelius 1st to use for their master. That said, they did one hell of a job with it. The sound is significantly warmer, more detailed, richer and deeper. It almost sounds like a different recording. After a brief A/B comparison, where the strings on the earlier release sound thin, I just sat back and enjoyed the whole thing two nights in a row.
I have had the Nielsen on a private disc. EMI had access to the original tapes this time and it sounds significantly better as you might expect. As Ed points out in the program notes, Stokowski usually included works of native composers when he guest conducted and this is an example. What always amazes me is how Stokowski could get the "Stokowski Sound" from an orchestra. I watched a DVD of his rehearsing a German orchestra in Stokowski's Bach Passacaglia and Fugue. You can actually hear the orchestra evolving into the Stokowski Sound! One of the facets of that sound is using "free bowing in the strings to achieve a warm legato" as Ed puts it. Watching the rehearsal you can hear Stokowski yelling "bogen frei!" If it seems like I have talked more about the Stokowski Sound than this particular item that is because I have.
I was sure these Grainger items had been previously released. Checking the discography, however, I don't find them in our collection. These might be their first appearance on CD. Grainger arranged the music at Stokowski's request. Stokowski asked for use of instruments like Vibraharps, Marimbaphones and Saxophones. The result is intense. The orchestra and pianist sound like they are having a great time. The last item is particularly intense. My ear quickly adjusted to the monaural sound. I'd still swear I have this in our collection.
Nobody is going to buy this set for the Dukas. I can think of a lot of other things lasting around 2 minutes I would have preferred. On the other hand, no one is not going to buy it because of the Dukas
The "Tragic" Overture was one of the Maestro's last recordings. You would never believe he was 94 when this was made! You want "Tragic" here it is. What intensity, what depths of emotion. This also sounds better than the 1997 Sony release. I don't know if they borrowed someone else's copy.
In 1955 Stokowski recorded the Hungarian Rhapsodies #1-3 with members of the NBC Symphony Orchestra. After Tocanini retired the NBC network got rid of the house orchestra within a couple years. It then became the Symphony of the Air for a while before completely disappearing. The virtuosity of that orchestra is simply amazing. It is also amazing how different and better they sound when Stokowski is at the helm. I believe this is a first CD issue.
The Ibert is a must have. If you have the previous EMI release this one sounds significantly better. Nobody did this kind of music better than Stokowski. Damn this is so erotic it is turning me on!
When Stokowski returned to Philadelphia in the 60s there were still many musicians who had played under his arms. There were tears of appreciation as he led his orchestra again. And it was still his orchestra despite Ormandy's tenure. Ormandy knew a good thing when he heard it and did little to change the Stokowski Sound.
At the time this recording was made the Philadelphia Orchestra was being recorded by Columbia (now Sony). In addition to the Wagner Stokowski was slated to record some Bach music (on Masterworks Heritage 62345 nla). Union contracts assured that musicians had to be paid for sessions and since the Bach required fewer players, the company scheduled it to be recorded after the Wagner so as to save money. Stokowski was miffed because the royalties he was to be paid were half his usual fee. The morning of the recording session Stokowski called and insisted on recording the Bach first, which would mean that musicians would be sitting around and getting paid to do so. After much wrangling Stokowski got his way. When he went before the orchestra he said, "I am a union man, too." *
Okay, now to this recording. This was also issued on the Philadelphia Orchestra's Centenary set and frankly sounds better there. Cutting the master at a higher level robs the Wagner of the warmth Stokowski imbued in all his recordings. On the other hand this is less expensive.
Finally we come to Glière's Russian Sailor's Dance. Stokowski recorded this popular piece only one other time and it is a fitting encore to this set. I believe this is its first appearance on CD. Still, I can't help but wonder if we could have replaced the Dukas and this and made room for the other two Liszt pieces.
Despite some minor quibbles I strongly recommend this set to Stokowski fans and to all serious lovers of classical music. They don't make them like Stokowski anymore and we are all less for that except that we can experience it thanks to releases like this one.
* From Oliver Daniel's book Stokowski: A Counterpoint of View
Copyright © 2002, Robert Stumpf II