CD Review
Great Conductors of the 20th Century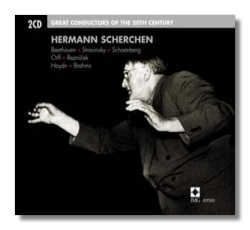 1 Vienna State Opera Orchestra/Hermann Scherchen
2 Royal Philharmonic Orchestra/Hermann Scherchen
3 Berlin Radio Symphony Orchestra/Hermann Scherchen
EMI Classics 5 75956 2 ADD partly monaural 2CDs: 78:26, 73:23

Nicolai Rimsky-Korsakoff: Russian Easter Overture 1
Modest Mussorgsky: Khovanshchina: Prelude 1
Sergei Rachmaninoff: Symphony #2 2
Gioachino Rossini: William Tell: Overture 3
Die Walküre: Ride of the Valkyries & Magic Fire Music 1
Götterdämmerung: Dawn and Siegfried's Rhine Journey & Funeral March 1
Tristan and Isolde: Prelude and Liebestod 4
Salome: Dance of the Seven Veils 5
Death and Transfiguration 5
1 Royal Philharmonic Orchestra/Artur Rodzinski
2 New York Philharmonic Orchestra/Artur Rodzinski
3 Columbia Symphony Orchestra/Artur Rodzinski
4 Chicago Symphony Orchestra/Artur Rodzinski
5 Philharmonia Orchestra/Artur Rodzinski
EMI Classics 5 75959 2 ADD partly monaural 2CDs: 74:59, 77:37
Collaboration between EMI Classics and IMG Artists has led to the creation of Great Conductors of the 20th Century, a series devoted to some of the great (and late) conductors of the previous century. By working with other labels, EMI and IMG have been able to dig deep and to bring many unusual recordings forward, some of them live. Many have not appeared on CD until now. Earlier releases were two for the price of one deals. EMI Classics has trimmed the prices even more. These two compilations, and others released at the same time, are being sold for the price of a single mid-priced CD.
The connection between Hermann Scherchen and Artur Rodzinski is that both made LPs for the Westminster label in the 1950s, and these LPs still are prized by collectors of used vinyl. Furthermore, Rodzinski (1892-1958) and Scherchen (1891-1966) both had colorful personalities, a fact which can divined from their work in the recording studios.
Scherchen's first work as a conductor was in 1912, when he conducted Schoenberg's Pierrot lunaire. This was a sign of things to come, as Scherchen remained an advocate of new music throughout his career. (Before then, the Berlin-born conductor trained as a violist.) After being stranded in Russia during World War One, he returned to the West, with Switzerland serving as a kind of "home base" for several decades. Scherchen's support of new music was matched by his interest in radio and technology in general, and also by his interest in stripping away the Romantic excess that had encrusted the music of Baroque and Classical composers. The Beethoven Eighth presented here (from 1954) was a revelation at the time for following the composer's metronome markings – shades of the "authentic performance" movement to follow decades later.
In addition to the Beethoven (the Coriolan Overture is memorably fiery too), there are other highlights here. The "Military" Symphony (1958) is one of the best on discs, and the playing of the Vienna State Opera Orchestra is electrifying, particularly in the final movement. Here's an orchestra that had the reputation for being second-rate, but you couldn't tell from this recording. Donna Diana giggles mischievously; another feather in the VSOO's cap. Scherchen's work with modern music is represented by the Schoenberg (a live studio recording from 1959) and the Orff. The former's Suite in the Old Style will be palatable even to those who don't respond to the Second Viennese School, as it is true to its name. Orff's fascinating eight-minute Entrata is based on a work by William Byrd. Here's a find. Orff has taken Byrd's original and transformed it into music that is both grand and hypnotic. It anticipates minimalism, but in a style all Orff's own. The Brahms First is angry and driven – a most un-Brahmsian reading. Only the Stravinsky fails to do anything interesting.
The engineering is variable but always acceptable. An essay by Scherchen's daughter Myriam gives unique value to the booklet note.
Rodzinski was born in Dalmatia to Polish parents. Unlike Scherchen, he did much of his work in the United States. Between 1926 and 1948, he led orchestras in Philadelphia, Los Angeles, Cleveland, New York, and Chicago. He had a prickly personality, however, and stress took a toll on his health. After having a row with management and leaving Chicago, Rodzinski was forgotten (or ignored) by the recording industry for a few years until Westminster rescued him in 1954. The last few years of his life found him making valedictory recordings with that label and with EMI.
Rodzinski's specialties were Wagner and the Russian repertoire, and both are heavily represented on this compilation. The Rachmaninoff Second was recorded in 1945, and lasted well into the LP era, thanks to a budget-priced reissue on Columbia's Harmony imprint. It's a good performance, quite flexible and expressive, but it is compromised by being heavily cut – a common practice at the time with this symphony. The Russian Easter Overture and Khovanshchina Prelude (and the two works by Richard Strauss) were recorded in 1957-58 in genuine stereo sound. (There's a hint of flutter in the Rimsky-Korsakov, however.) They're well played, but I don't think they are representative of Rodzinski's excitable style. The Wagner excerpts are better. When he conducted Wagner's orchestral music, Rodzinski brought his experience in the opera house with him, and these readings are notable for their sense of context – this is not "bleeding chunk" Wagner. The dark colors Rodzinski and the Chicagoans brought to Tristan are notable. (This recording is a souvenir of the conductor's troubled single season with that orchestra.)
Given a choice between these releases, I'd choose the Scherchen as the more surprising and rewarding of the two, but admirers of vintage conducting will welcome both to their collections.
Copyright © 2004, Raymond Tuttle