CD Review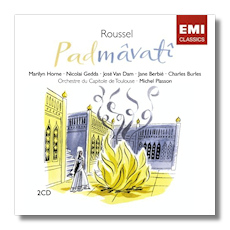 Padmâvatî, Op. 18
Marilyn Horne (Padmâvatî)
Nicolai Gedda (Ratan-Sen)
José van Dam (Alaouddin)
Jane Berbié (Nakamti)
Charles Burles (Brahmin)
Marc Vento (Gora)
Laurence Dale (Badal)
Orféon Donostiarra
Orchestre du Capitole de Toulouse/Michel Plasson
EMI Classics 381867-2 DDD 2CDs:53:15, 49:58
Padmâvatî's failure to enter the repertoire can be blamed partly on the difficulty of knowing what it is: is it an opera or a ballet? Albert Roussel (1869-1937) called it an "opéra-ballet," and it's true: for a work over 100 minutes in length, it has too much dancing to be regular opera, and altogether too much singing to be a regular ballet! Roussel's inspiration was his visit, in 1909, to the actual ruins of Chitoor in Rajputan, India. It was in Chitoor, many centuries ago, that Mogul troops led by the Sultan Allauddin entered the city. In the opera, the Sultan presents himself as a man of peace and tells Ratan-Sen, the King of Chitoor, that he even has converted to Hinduism. Ratan-Sen entertains the Sultan, but when Ratan-Sen shows him his wife Padmâvatî, the Sultan demands Padmâvatî for himself, or else he will destroy the city. Ratan-Sen asks her to give herself to the Sultan to save Chitoor and its citizens. Not wishing to compromise her honor, she stabs him, knowing that she must join him in death by sati in accordance with Hindu customs. As the opera ends, the Sultan enters the temple to see his future with Padmâvatî literally going up (to Nirvana) in smoke on her husband's funeral pyre.
Padmâvatî is a subject which provided Roussel with opportunities for exoticism, mysticism, and spectacle. Musically, it brought the composer to the threshold between his earlier flirtations with impressionism à la Debussy, and the introduction of more pungent, sometimes even harsh harmonies into his vocabulary. (There is quite a bit of bitonality, for example.) Parts of Padmâvatî are reminiscent of Ravel, particularly Daphnis et Chloë. However, Roussel's score is not a crowd-pleaser in that vein, even though, in the theater, it must offer plenty of eye-candy. It's not a "tunes" opera, but if you like lots and lots of atmosphere, both visual and musical, it has much to offer.
I think this is the only studio recording of Padmâvatî, although there's a live recording from 1969 (on the Gala label) that features a great cast: Rita Gorr, Albert Lance, Gérard Souzay, and Jean Martinon on the podium. Fortunately, the opera is in good hands here. Michel Plasson knows exactly how to conduct a score like this, and Horne, Gedda, and van Dam all make good contributions, although one could imagine a more vividly dramatic approach both from the orchestra and from the singers. Padmâvatî feels a little oratorio-like on these CDs – but what an oratorio! The early digital recording (1983) hasn't lost any of its luster.
As with other EMI Opera Series reissues, the French texts and English translations, so indispensable with an opera this unfamiliar, are not included, although the buyer is invited to go to EMI's website to download them. Indeed, the French libretto is there, but I did not see any English translations. Needless to say, this is a problem that EMI needs to fix.
Copyright © 2007, Raymond Tuttle